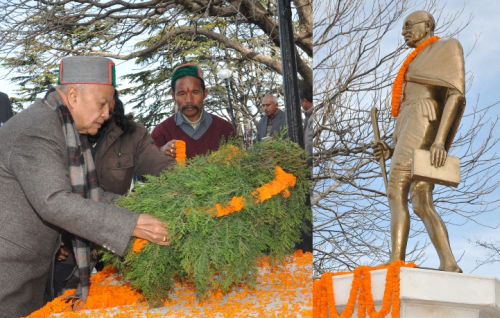 Chief Minister Virbhadra Singh today paid floral tributes to the Father of Nation, Mahatma Gandhi on his 65th death anniversary by laying wreath at his statute on historic Ridge Maidan Shimla.
Chief Minister said that Mahatma Gandhi was epitome of peace, truth, non-violence and high moral values. He said that the teachings and philosophy of universal brotherhood and co-existence, so dear to Mahatma Gandhi are even more relevant today.
Thakur Singh Bharmouri, Forest Minister, Ram Lal Thakur, Chairman State level Planning Development and 20-Point Programme Committee, Mohan Lal Brakta, MLA, Sanjay Chauhan, Mayor Municipal Corporation, Shimla, Dinesh Malhotra, Deputy Commissioner, Shimla, Dr. Naresh Kumar Lath, ADC, Shimla, Amarjit Singh, Commissioner, Municipal Corporation, Shimla, Sohan Lal and Manoj Kumar, former Mayors of MC Shimla, Councellors of MC Shimla, Congress leaders and other people along with students also paid their tributes to the father of Nation.