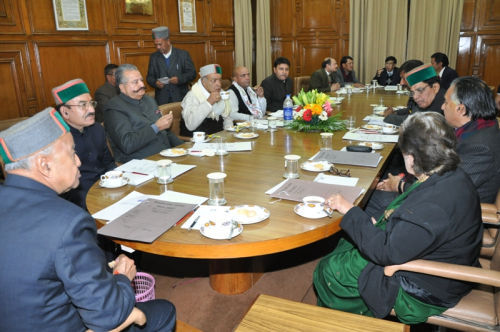 Himachal Pradesh Cabinet in its meeting held under the chairmanship of Chief Minister Virbhadra Singh, here today, decided to reopen all those 149 Government Schools which were de-notified during previous Government's regime. These include 34 Primary, 66 Middle, 25 High and 24 Senior Secondary Schools.
Cabinet also decided for global tenders for purchasing pulses under subsidized ration scheme. Cabinet decided that cadre of Para Medical Staff which was converted from State to District Cadre by the previous Government would again be made State Cadre. It was decided that all the Nursing Institutions for which NOC was given by previous Government would be inspected and verified whether the norms prescribed by Indian Nursing Council are fulfilled or not and in cases where NOC was granted and project remained unimplemented, because Indian Nursing Council had not granted them permission would be reviewed.
In order to provide quality education in the State it was decided that plans would be made in accordance with the Manifesto of the Congress Party which has been adopted as Policy Document.
Cabinet gave its approval to sign tripartite MoU for creating National Optical Fibre Network (NOFN) for Panchayats in the State with Department of Telecommunications, Government of India and M/S Bharat Broadband Network Limited with conditions/observations of PWD, Forests, Municipality, Panchayat Authorities, Electricity Board Ltd. and IPH department of Himachal Pradesh. The NOFN will help in proliferating the benefits of Information and Technology down to panchayat level. It would also help in facilitating electronic delivery of services like e-education, e-health, e-banking, e-agriculture etc. to the rural population of the State. It would also generate additional employment which will decrease the migration of population from rural areas to urban areas.
It was decided in the meeting that MoU signed to construct rope way between Shri Naina Devi Ji and Shri Anandpur Sahib would be reviewed by a committee headed by Chief Secretary and report would be placed before the Cabinet.
Cabinet decided to provide a consolidated salary of Rs. 26,250 per month to all Dental Medical Officers appointed on or after 18th August, 2010. It was also decided to regularize the services of 64 Dental Medical Officers appointed in 2007 on contract basis. A regularization Policy for Dental Medical Officers on the analogy of Medical Officer (General) appointed under Rogi Kalyan Samiti was also approved. It was also decided that all Medical Officers appointed on RKS contract would be moved to Government contract.
Cabinet decided to repeal the sixth amendment made in the Himachal Pradesh Right to Information Act-2006 in public interest. Amendment allowed the Public Information Officer, the first appellate authority and the Information Commission to dismiss the appeal of the person, who claims information under RTI Act, on the base that he or his representatives fails to appear in the hearing. The decision to repeal the amendment would help the matters to be disposed on merits while keeping in the view the spirits of the Act.
Cabinet gave its approval for shifting of North Circle office of HIMUDA from Hamirpur to Dharamshala along with existing staff.
It was decided in the meeting that Tube Well Sub Division Amb along with eight posts of different categories to be transferred to Jhelara and to open Flood Control Sub Division at Jhelara in Una District.
Cabinet decided to defer the implementation of the Constitution (85th Amendment) Act, 2001 and continue with the existing reservation system till the finalization of this matter, in view of ongoing process of the Constitution (117th Amendment) Bill, 2012 by the Union Government.
It was decided to amend the policy being implemented for admissions in Post Graduate Degree/Diploma Courses in all Govt. and Private Medical and Dental Colleges of the State. As per this amendment, from the academic year 2013-14 and for the next three academic sessions, the admissions would be made on the basis of 66.6 percent quota for the General Duty Officers (GDO) and 33.3 percent direct quota under the 50 percent State Quota. As per the prevailing norms 90 percent seats were reserved for GDOs, which was going to be increased to 95 percent from 2013-14 session. This was found impractical as adequate numbers of GDOs were not available for these courses.
Cabinet gave its approval to fill up 205 posts of Forest Guards on contract basis in the Forest Department. It was decided to create 28 posts of Clerks in Settlement Department on supernumerary basis, one post of Librarian in the office of Advocate General on contract basis, 20 posts of Assistant Professors in IGMC, Shimla and Dr. Rajendra Prashad Government Medical College, Tanda, Kangra through direct recruitment. Cabinet also approved the creation of eight posts of Additional Advocate Generals and One post of Deputy Advocate General in the office of Advocate General Himachal Pradesh on tenure basis and to create nine additional posts of Radiographers in IGMC Shimla on contract basis. It was also decided to create ten posts of Designated Officers (Class-I Gazetted) under Food Safety and Standard Act-2006. Out of these 10 posts, 50 percent would be filled up by direct recruitment and 50 percent by promotion.
It was also approved to fill up vacant post of Scientific Assistant in Biology and Serology division in Regional Forensic Science Laboratory at Dharamshala on contract basis through direct recruitment.
Cabinet also approved Recruitment and Promotion Rules for the post of Radiation Safety Officer, Class-I (Gazetted) in IGMC Shimla, R&P Rules for Project Officer (Class-I Gazetted) and Anaesthist (Class-I Gazetted) in the Ayurveda Department. It was also decided in the meeting that Sub Divisions (Civil) Salooni-Dalhousie which was reconstituted on 22th June, 2012 would again be restored to its original jurisdiction.
Cabinet reviewed all the decisions taken by the previous Government during the last six months.