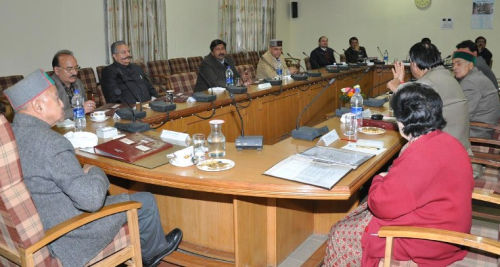 In a Cabinet meeting under the chairmanship of Himachal Pradesh Chief Minister Virbhadra Singh held at Mini Secretariat Dharamshala, it gave consent in principal to participate in Financial Restructuring Plan of Govt of India to bear the loses of electricity board. Under the scheme 50 per cent of the financial losses or short term liabilities whichever is less, of the state electricity board ending March, 2012 shall be taken by the state govt.
The financial losses of HPSEBL is amounting to about Rs. 1400 crores 50 per cent of the this i.e. about Rs. 700 crores shall be taken over by the govt. of HP and the rest shall be converted into long term loan to be met with by the State Electricity Board.
Under the FRP the Govt. of India will appoint a nodal bank to make the Financial restructuring plan on above lines in consultation with the HPSEBL and the plan shall again be brought for approval of the state Govt. after taking due approval of the State Regulatory Commission.
However the consent of the State Govt. is subject to the condition that the Govt. of India may consider the re-imbursement of 50 per cent of the loan instead of 25 per cent reimbursement given under the plan. Further it may also consider relaxing the Fiscal Responsibility Budget Management Act provisions by atleast equivalent to the liability of Rs. 700 crores to be taken over by the Himachal government.
It is relevant to mention here that the total short term liabilities of HPSEBL ending March,2012 were to the tune of approximately Rs. 2700 crores. The scheme allows minimum of the short term liabilities or the accumulated financial loses ending March,2012 which is about Rs.1400 crores.
Under the scheme the Govt. of India shall provide incentive in the next three years to the tune of about Rs.500 crores on reduction of Aggregate Technical & Commercial (AT&C) losses beyond the targets fixed under Restructured Accelerated Power Development & Reform Prgramme (RAPDRP). In addition to this about Rs. 175 crores shall be given as grant to the state govt. in lieu of taking over the 50 per cent of the financial losses of the board limited by the GoI. There are certain other conditions that will have to be met with by the HPSEBL and the state govt. over the next 2 to 5 years.