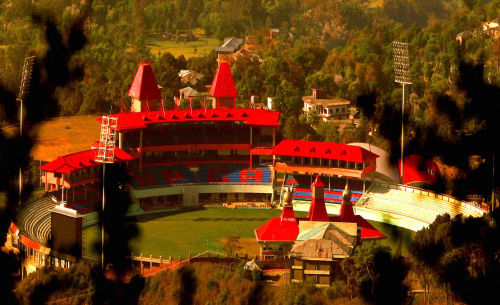 Dharamsala (Arvind Sharma): It's a festive atmosphere in Dharamsala – a town in the foothills of the mighty Himalayas as it prepares to host the first Cricket ODI. Both India and England teams are already in the town and are expected to practice in HPCA stadium on Friday and Saturday before the Sunday's match. The English fans have also started arriving through charted flights and luxury road vehicles. BCCI officials too started gathering here in wake of the closing ceremony of the series. All 67 MLA's of Himachal are coming to witness the first ever international cricket in the state; the Chief Minister of Himachal Pradesh Virbhadra Singh shall be the chief Guest along with Tibetian spiritual guru Dalai Lama.
It is weekend and thus huge number of tourists are coming to this Sunny hill station from adjoining states of Punjab, Haryana and Delhi. This unprecedented gathering has created the shortage of accommodation in the town. The host of the show, the Himachal Pradesh Cricket association (HPCA) too admits that the spectators might face problems in getting suitable accommodation. The town has 56 registered hotels and guest houses with a bed capacity of 1,100. Similarly, McLeodganj, eight km from Dharamsala, has around 91 registered hotels which can accommodate 2,000 people. In addition to this a dozen government rest houses are also there, but all are jam packed.
Sanjeev Gandhi, owner of a hotel in Mecleodganj said, "The total rooms of our hotel were booked a year back for this event." Kanti Lal who runs a home stay business said," we have guests from Mumbai to watch the match, sorry no space for others.' Beside accommodation, the Administration is worried about the parking for the vehicles of those match seekers, who will come to Dharamsala, the same day for the show.
There is no problem of stay for the players and officials of this match "For the players, the Pavilion residential complex is almost ready. It has 32 huts made of imported wood and 38 concrete rooms. A world-class multi-gym is the new addition," said Anurag Thakur president HPCA and Joint secretary BCCI.
The Pavilion, overlooking the stadium, is some three km from the stadium. The stadium, 250 km from state capital Shimla and Chandigarh, has a 21,500-seating capacity, with the additional features of a world-class indoor stadium comprising video analysis facilities for both bowlers and players, 14 practice pitches out side the ground, a club lounge, restaurant, bar and banquet hall.