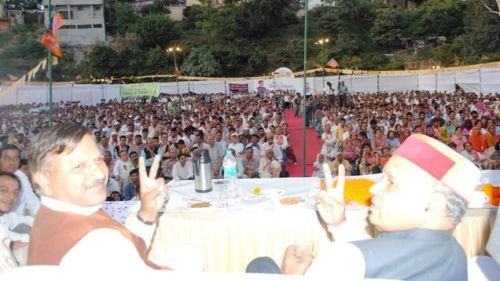 Chief Minister Prem Kumar Dhumal blamed Congress to 'fail' to protect the interest of the state. He targets HPCC Chief Virbhadra Singh and his family and said that the involvement in a 'shady land deal' in Kasauli tehsil had 'exposed' the real face of these Congress leaders.
He alleged that the Congress had sold the prime government land to a key realtor during their regime and when confronted by the media, it had been levelling baseless allegations.
Addressing a public rally at Dharampur in Kasauli constituency and later in Nahan, he said the presence of two Union Ministers from the state had not helped the state get its due and they had to fight the case for getting its share in the BBMB case, which the Union Government had 'opposed' tooth and nail. CM alleged that the reduction in quota of rice, kerosene and untimely curtailment of the state's industrial package by the Centre proved the anti-Himachal stance of the UPA government.
Dhumal sarcastically said that the price rise was 'synonymous' with the Congress and whenever they formed the government, it led to massive price hike, thus burdening the common man. He added recent center Govt dictate to rise in the price of diesel, petrol and other commodities is hitting common man hard. The move to do away with subsidy in LPG had worsened their condition and now sugar, too, was being decontrolled.
BJP leader urged electors to give a befitting reply to the 'anti-poor' policies of the Congress at the Centre.