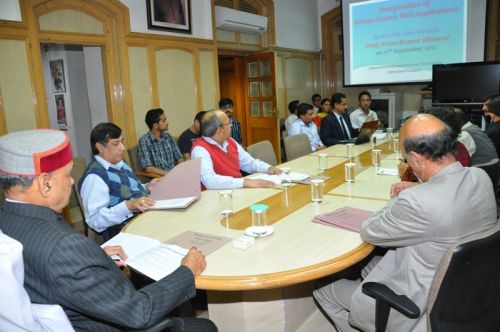 Chief Minister Prem Kumar Dhumal launched five different, State Services Delivery Gateway (SSDG), SMS Based Application for Relief Under Natural Disaster, Farmers Advisories Through SMS, Computerization of Five Welfare Corporations and State Information Commission Application, under 'Citizen Centric Web Applications' Computer Applications developed by the Department of Information Technology, to the citizens of the State, by clicking the mouse here today.
Congratulating the Department of Information Technology for adding more milestones into the efficient delivery system by taking benefit of e-enabled facilities in making the administration efficient, transparent and accountable towards the general public, Chief Minister said that the State Government was laying added emphasis upon the re-engineering of official processes and usage of information technology for delivery of efficient services to the people. He said that with the availability of the e-enabled services people would now be able to apply for any service and procurement of documents on line thereby saving their time and money in the existing lengthy official procedure. He said that through SSDG people would be able to apply online for government services by using e-Form facility round the clock. He said that the application would be delivered to concerned office and final product i.e. certificate etc. would also be available on line besides getting hard copy of the same. He said that status of the application would also be known to the applicants and authorities would keep him updated through SMS from time to time. He said that 49 services of 14 different departments had been identified through e-Services portal. He said that Lok Mitra Kendra services could also be availed for the purpose. He said that all such services would be available by visiting at http://eserviceshp.gov.in.
Prof. Dhumal said that SMS based applications would also be entertained for relief under Natural Disaster and any citizen can SMS 'HPNDISASTER followed by his name, panchayat, tehsil description' to 166 and the same would automatically reach the concerned Deputy Commissioner/ SDM/ Tehsildar/ Naib-Tehsildar/ Patwari etc. within no time. He said that farmers advisories would also be available on SMS who would get package of agricultural/horticultural practices updates through SMS on their mobile phones carrying details of cultivation to be done in a particular period of time, soil condition requirements, seed sowing, nutrient management, water management, weed management, insect pests and diseases management, harvesting and post harvesting management etc. He said that farmers would be required to get themselves registered on the portal http://hpagrisnet.gov.in to avail the services and provide their mobile number and name etc. . He said that additionally five welfare corporations would also be available on http://hp.gov.in/dsje. He said that entire information concerning State Information Commission Application would be available on http://hp.gov.in/sic.
Chief Minister said that online facility would help increase the efficiency and productivity of organization with better monitoring and transparency. He said that it would develop a single and integrated view of information system across all corporations and their offices all over the State and provide timely and reliable management information relating to departmental administration for effective decision making. He said that it would be useful to provide interface with other key stakeholders like banks and apex bodies ineffective planning and analysis based on factual data and trends. He said that efforts were afoot to bring entire administrative functioning under the online system to deliver people time bound services by maintaining transparency in the process. He advised the authorities to make all such information and facility available to people in Hindi language.
P.C. Dhiman, Principal Secretary IT, welcomed the Chief Minister, and thanked him for launching the facilities to the citizens of the State. Subhashish Panda, Director of Information Technology, detailed the facilities to be available to the people with the launching of the services.
Bhim Sen, Chief Information Commissioner, S. Roy, Chief Secretary, P. Mitra, Additional Chief Secretary, Dr. Deepak Sanan, Principal Secretary, Revenue, Bharti Sihag, Principal Secretary, Forest, S.K.B.S. Negi, Principal Secretary, Rural Development and Panchayati Raj, D.D. Sharma, Secretary, Information Commission and other senior officers were present on the occasion.