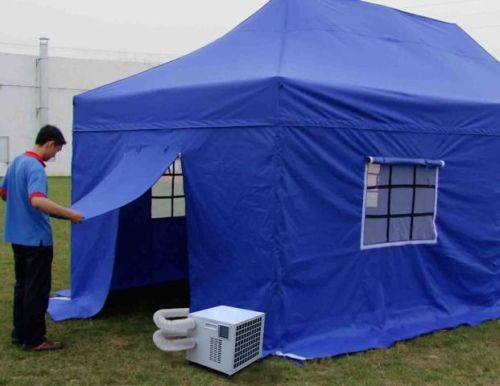 Himachal Pradesh is blessed with natural beauty and throughout year, many tourists came here to enjoy the beauty of the hills. However, many of them don't adapt with the low temperature of the hills and sometime forced to end their halt in the state. For those who don't endure the cold waves in tents and makeshift houses ClimateRight could be a best alternative to keep themselves warm in the intense cold waves of the hills'.
ClimateRight is capable of cooling, heating, purifying and humidifying any outdoor enclosure and it can be a boon in the camping trip. The ClimateRight is available in two sizes one 2550 BTU Mini air conditioning and heating unit for smaller enclosures and Max 7000 BTU unit for larger 1200 odd cubic feet enclosures. The ClimateRight feature a large digital display which can be used to set temperature, timer and sleep settings, besides controlling the unit with a remote control from a distance.
Weighing in at about 40lbs the portable ClimateRight houses a Hitachi processor which can be powered of any standard 110v power outlet and costs slightly higher at Rs 30,000 (for 2550 BTU Mini model), but considering the comfort alternative of your pet or your own lifestyle outdoors, it's actually a bargain.
Apart from the camping tents and small makeshift houses, ClimateRight can be useful for the lower hills as in many places summer temperature soar to unbearable limit and this portable device can give enough cool and pure air to evade the heat waves.