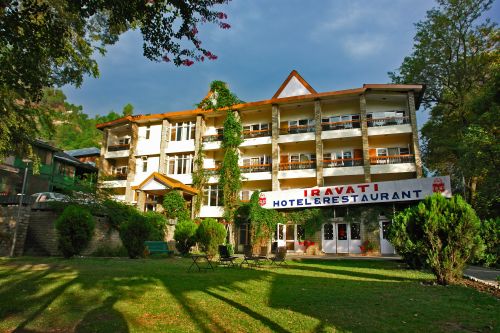 At an altitude of 915m above the sea level, Chamba is a beautiful town in the state of Himachal Pradesh. Situated on the right bank of the river Ravi, Chamba is a beautiful town with great historic importance. As a former princely state, Chamba dates back to the 6 th century. It is well known for its splendid architecture and a base for numerous excursions. It is also the district headquarter.
The town of Chamba is named after Champavati, the daughter of Raja Sahil Varman who shifted his capital to Chamba in 920 AD. The beauty of the town woos the visitors with scores of beautiful places that people can visit during their stay.
Here, HPTDC runs a mid priced hotel called Hotel Iravati. Located at an altitude of 996 meters and in the heart of the Chamba town, Iravati Hotel is an ideal place to enjoy all the luxury and bliss of the nature in the peaceful ambience. Surrounded by flowering bougainvillea and set in an attractive lawn, this by far, is the best place to stay in Chamba.
To be there
Chamba is connected by road and is 580 kms from Delhi. It is 24 kms from Khajjiar, Dalhousie via Khajjair is at a distance of 56 km. The closest railhead is at Pathankot, which is 118 km away from Chamba and the closest airport is at Gaggal in Kangra at a distance of 170 km. You can hire a taxi or board a bus from these places to reach Chamba.
What makes it so special?
Chamba is a cool place, serene and welcomes its visitors to breathe in an atmosphere that will make you forget not only the hustle and bustle of cities but also ever-irritating noise. Apart from that, Chamba is famous for its splendid architecture that will take you back in the ages. It's also a base for numerous excursions.
What does it offer?
Some of the amenities that the hotel Iravati Hotel include
 Rooms are airy, spacious, decently furnished with attached baths and running hot & cold water
 Each room has TVs with Satellite Connectivity
 Room service, Laundry, Parking within premises, Doctor on call
 Restaurant that serves Indian and Continental cuisine
Main attractions in the vicinity
Some of the stunning attractions in and around Chamba Town include the following:
Laxmi Narayan Temple Complex: Renowned for its finely executed classical forms, Laxmi Narayan Temple Complex incorporates six main Shikhara style temples and several smaller shrines.
Hari Rai Temple: This is dedicated to Lord Vishnu and dates back to the 11th Century.
Other Temples: With remarkable craftsmanship, Chamba has hoards or temples to woo the visitors. Some important shrines are Champavati, Vijreshwari, Sui Mata and Chamunda Devi.
The Chowgan: The hub of much of town's activity, Chamba's Chowgan is wide-open space that also serves as its promenade.
Rangmahal: This old palace is an interesting mix of colonial and local architectural styles.
Akhand Chandi Palace: This imposing building once housed Chamba's ruling family now functions as a college.
Bhuri Singh Museum: Named after Raja Bhuri Singh of Chamba, this is a treasure house of Chamba's rich past.
St. Andrew's church: The Church with a charming dressed stone structure and lancet windows is over a century old.
Bharmour: It's 84 ancient temples at a height of 2141m above the sea level are well known. It is also the summer home of the nomadic Gaddi people.
Manimahesh: At a distance of approximately 100km, this sacred lake (4183m) is associated with Lord Shiva and is a site of annual pilgrimage from mid of August to mid of September each year. Distance from Bharmaur is 28 Km.
Chatrari: An attractive temple to Shakti Devi is located is located at a distance of 45km but it's place worth visiting.
Tariff at the hotel:
Chamba Suite (DBR)————- 2500/-
Double Bed Room Super Deluxe— 2400/-
Double Bed Room Deluxe ——– 1800/-
Double Bed Room Semi Deluxe — 1700/-
Double Bed Room Regular ——- 1500/-
Double Bed Room Regular ——- 1200/-