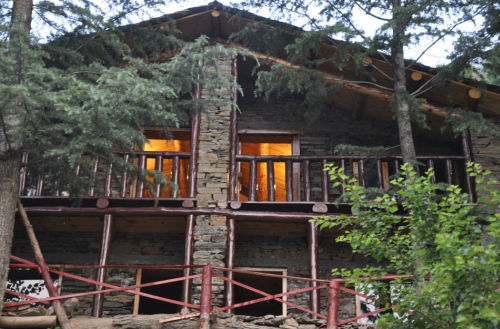 Life in plains of northern part of India has started becoming unbearable as the mercury hovering over 45 degrees, the cool soothing breezes of Himachal hills is something that placates it.
Although, there are numerous places to hang out in Himachal Pradesh; some are in foothills of mighty Himalayas and some far above the sea level, but today I would like to draw readers' attention towards Rajgarh hills that can truly be a cool place to spend small vacations with family or friends.
Rajgarh hills is located on Solan-Rajgarh road 'about 5000ft from the sea level' at Village Kotli of Rajgarh in District Sirmour. A promoter, who is local, has tried to keep nature intact at this camp site.
A small hill of Rajgarh, away from hustle and bustle of fast life of metropolitan cities, has so much to offer in terms of aesthetic beauty, health, and relaxation. Located near small and quaint hill town of Rajgarh in District Sirmour of Himachal Pradesh, India, the Rajgarh hills is about 38 Km from Solan off the NH Way to Shimla.
A wide, smooth road is the only option to get there and tourists coming from Chandigarh have to travel a distance of about 100 km, i.e., about five hours drive, to reach the campsite. A detailed route: Solan – Ochghat – Yashwant Nagar – Sanora – Rajgarh.
Rajgarh Hills offers adventure activities which include trekking, rock climbing, river crossing, flying fox, rappelling, and obstacle course.
Main attractions in the vicinity
Surdhar Peak: About three kilometers from the campsite, Surdhar Peak offers enchanting natural view of the valley. An ancient temple is also situated at the peak. The way uphill to the temple goes through a beautiful vista.
Rajgarh: Popularly known as the Peach valley, Rajgarh is a green valley in Sirmour district. Rajgarh is a beautiful valley of Sirmaur. Rajgarh is a place of great natural beauty. One can camp and trek in the valley.
Habban: It is a beautiful destination decked with a thick forest of pine fir, kail, baan, and deodar and orchards of apples and peaches.
Haripurdhar: Haripurdhar is about two hour journey from the campsite and is famous for the Bhangayani Temple, a god sister of Lord Shirgul, the principal deity whose seat is at Churdhar.
Nohradhar: On way to Haripurdhar from Rajgarh, Nohradhar is one hour journey and is trekkers' base camp to Churdhar.
Badu Sahib/ Baru Sahib: About 28 kilometers from Rajgarh Hills, it's a house of Sikh Akal Academy spread over 400 acres.
Kanda Water Fall: About 15 kilometers from the campsite, Kanda Water Fall is a natural pool and waterfall.
Churdhar: Foothills of Majestic Churdhar is about an hour drive from Rajgarh Hills and then it's a 14 km trek to the top of the hill. Churdhar peak is the highest peak not only in Sirmour district but also in the outer Himalayas. The Churdhar peak has its religious significance for devotees of eastern Himachal Pradesh (Shimla, Sirmour, and Solan) and Dehradun of Uttrakhand. Churdhar is the holy place of Lord Shirgul Maharaj (Chureshwar Maharaj).