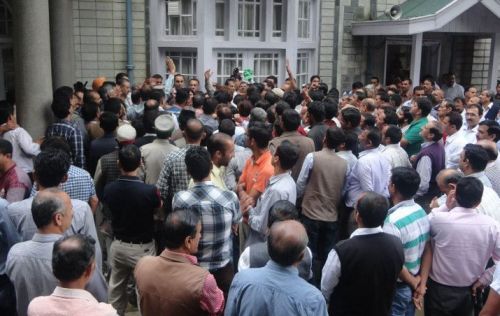 Chief Minister Prem Kumar Dhumal claimed that State had witnessed uniform and balanced development during past four and a half years and every section of the society had been benefited from the programmes and policies of the State Government. He was addressing a delegation of Jubbal Kotkhai led by Narinder Bragta, Horticulture Minister called on him at his official residence Oak Over here today.
Chief Minister said that his Government was ensuring development of the State by rising above all considerations so that people in all parts of the State were benefited at large. He said that ambitious schemes were being implemented for the welfare of farmers and fruit growers. He said that support price of apple and mango had been enhanced under Market Intervention Scheme to Rs. 6 per kg from this year to ensure remunerative prices to the fruit growers. He said that grading and packing lines had been established at Jarol Tikkar in Kotgarh, Oddi in Kumarsain and at Gumma in Kotkhai area of Shimla district to facilitate the horticulturists.
Prof. Dhumal said that subsidy for grading and packing of fruits had been increased to 80 percent from 55 percent under Horticulture Technology Mission. He appealed to the party functionaries to fan out the policies and schemes especially launched for welfare of fruit growers and farmers so that they could take benefits of these thereby strengthening their economy.
Chief Minister said that Himachal Pradesh has emerged a leading State in the country in various fields of development. He said that State Government had implemented ambitious schemes like 'Atal Swasthya Yojna', 'Matri Sewa Yojna', 'Pandit Deen Dayal Upadhayay Aushdhi Sewa', 'Mukhyamantri Vidharthi Swasthya Karyakaram Yojna', 'Muskan' etc. in heath sector and health services were being provided to the people of the State at their door steps.
Prof. Dhumal expressed confidence that efficient health services in the State would get further boost under the leadership of Shri Narinder Bragta who had been allocated health and ayurveda portfolios recently.
Narinder Bragta, Horticulture and Health Minister thanked the Chief Minister for reposing faith in him by allocating four portfolios. He said that a number of milestones in horticulture development had been achieved under the able guidance of Chief Minister and added that many ambitious schemes had been implemented for strengthening this sector.
Veena Thakur, Chairperson, Social Welfare Board, Gian Chandel, Chairman, APMC, Surender Thakur, President, NGOs Federation, Yashveer Jasta, Vice President, Himachal Kisan Morcha, Ghanshayam Sharma, Vice President, Himachal Pradesh State Employees and Pensioners Welfare Board, Ramesh Chauhan, President, IGMC Association, Devender Manta, General Secretary, Civil Supplies Corporation Association, Rajeev Chauhan, President, Horticulture Association, representatives of panchayats, office bearers of BJP and other prominent persons were present on the occasion among others.