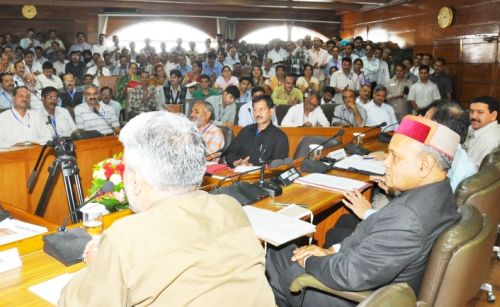 In a Joint Consultative Committee (JCC) Meeting held here today, Himachal Govt has decided to give its employees Time Scale of 4-9-14. Chief Minister Prem Kumar Dhumal announced it in the JCC meeting. It will benefit 3.37 lakh regular, contractual, part time, daily wage employees of different Departments, Boards and Corporations with various other announcements made by the Chief Minister on the occasion.
Chief Minister announced that contractual employees recruited through proper recruitment system under R&P Rules by H.P. Public Service Commission and H.P. Subordinate Services Selection Board etc. will be regularised in six years now instead of eight years earlier. They will also be given medical leave of 10 days in a year in addition to 12 days casual leave being given to them. Further they will be eligible for transfer after three years instead of five years earlier. All contractual employees would also be covered under National Health Insurance Scheme. This decision of the Government will benefit over 42000 employees.
Prof. Prem Kumar Dhumal also announced grant of one special increment to IV employees on completion of 20 years of service. This will also benefit over 80,000 employees in the State. He also announced enhancement in Tribal Allowance from Rs. 200 to Rs. 300 to the employees serving in tribal areas of the State.
Prof. Dhumal announced adoption of uniform Policy for providing compassionate employment to kith and kin which would also cover contractual employees. He announced that Part Time Water Carrier would be made Daily Wager on completion of 9 years instead of 10 years and they will be designated as Water Carrier-cum-Sewadar. He said that eligible Water Carriers would be absorbed against available vacancies. He also announced housing loan facility to the State Employees on the pattern of Central Government employees on the basis of basic pay of revised pay scales by removing upper limit of Rs. 7.5 lakh. He also announced enhancement in the budgetary provisions for repair of Government Residential houses for the employees at district level from Rs. 10 crore to Rs. 13.85 crore.
Chief Minister said that the State Government during its present term beginning from January 1, 2008 to June 30, 2012 had provided financial benefits worth Rs. 6,296.84 crore which included implementation of 5th Pay Commission Recommendations. He said that entire pay arrear to state employees and pensioners had been cleared while the neighbouring State of Punjab had released only 40 percent to its employees. He said that house rent allowance had been doubled; contractual employees also provided financial benefits to the tune of Rs. 45 crore.
Prof. Dhumal said that Fixed Medical Allowance had been enhanced from Rs. 100 to Rs. 250 besides increasing fixed Travelling and Daily Allowance. He said that daily wages had also been increased from Rs. 75 to Rs. 130; Social Security Pension from Rs. 200 to Rs. 400 per month; Capital Allowance increased from Rs. 175 to Rs. 275; two increments to employees adopting permanent family planning afterbirth of two daughters under 'Beti Hai Anmol' Scheme; Special Increment released to Drivers on completion of 20 years of service; Ration Allowance of State Police enhanced from Rs. 100 to Rs. 150 per month. He said that soft loan facility upto Rs.75,000 launched for employees to admit their wards in professional courses, Ex-Gratia amount on sudden death of employees increased from Rs. 35,000 to Rs. 1.00 lakh. He said that budgetary provisions of Rs.82.86 crore had been made to clear all pending liabilities relating to medical allowance out of which Rs. 32.51 crore had been earmarked for clearance of travelling bills. He said that thousands of daily wage and contractual employees completing eight years of service had been regularized.
Chief Minister reiterated the resolve of the State Government to maintain cordial relations with its employees and said that employees had been rendering valuable service in implementation of policies and programmes of the State Government. He assured the employees that all their genuine demands would be considered sympathetically.
Prof. Prem Kumar Dhumal said that employees would have also to win the trust of the common man by providing them responsive and timely services as common man interest was the supreme to the Government.
Chief Secretary S. Roy thanked the Chief Minister, for providing various financial benefits to state employees from time to time without waiting them to ask for the same. He lauded the role of employees in the development of the State and added that conferment of record 67 awards on the State which could not be possible without the hard work of the employees and also implementation of policies and programmes of the State Government in the right perspective. Manisha Nanda, Principal Secretary, welcomed the Chief Minister and conducted the proceedings.
Joginder Verma, Chairman, HP Building and Other Construction Workers Welfare Board, Ghanshyam Sharma, Vice Chairman, HP State Employees and Pensioners Welfare Board, Additional Chief Secretaries, Principal Secretaries, Secretaries, Heads of the Departments, Senior Officers, Union leaders of NGO Federation attended the meeting.