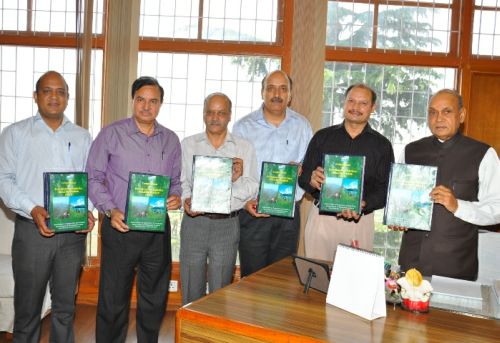 Chief Minister released the 'Compendium of Environmental Statistics, Himachal Pradesh – 2012' brought out by the Department of Economics and Statistics, to mark the World Environment Day, here today.
Chief Minister said that publishing such an important document, having details about temperature, rainfall, snow fall, water, energy, atmosphere, land and soil, forest, snow and glaciers, cropping pattern and other environmental aspects was a remarkable effort of the department. He appreciated the efforts made to collect and compile the data relating to different environmental indicators. He said that the publication contained valuable information for the people and opinion makers. He said that the data had shown that the highest temperature registered in year 1971-72 was 28.5 degree Celsius which increased to 33.7 degree Celsius in the year 2010-11 and the minimum temperature remained almost static and was registered at 5.6 degree Celsius in 1971-72 which now was at 5.8 degree Celsius. He said that the cycle of rain and snow had changed marginally but average rainfall had remained static. He said that the State had 31,757.71 sq. kms. of area under snow cover and change in rain and snow-fall cycle was due to the green house gases and the other major source emitting carbon-dioxide had been the vehicles which were only 9,116 four decades ago and numbered at 1,67,264 now.
Prof. Dhumal expressed happiness that the forest cover had increased 16,460 square kilometers during past four decades as the State had 20,540 sq. kms. of forest cover in year 1970-71 which had now increased to over 37,000 sq. kms. He said that it could be possible due to environment consciousness of the people of the State who volunteered for this cause. He expressed deep concern over the forest fires taking place in different parts of the State which not only destroy the green cover but also destroy flora and fauna, essential ingredient for forests. He said that land use area had increased from 2,932 hectares to 43,89,000 hectares and irrigated area from 89,609 hectares to 9,35,050 hectares during past four decades. Number of livestock had also increased from 47,02,456 to 52,33,008.
Chief Minister said that food crop yield had also increased from 9,54,000 MT to 14,98,000 MT while fruit cultivation area increased from 44,329 hectares to 2,08,154 with increase in production from 148.58 MT to 1027.82 MTs. He said that substantial increase in off-season vegetable production had also been registered with the launching of a number of schemes aimed at motivating farming community to diversify their traditional farming practices towards cash crop and off season vegetable cultivation. He said that it was for the first time that the State had been awarded National Award in Agriculture Leadership for the sustained efforts made in agriculture sector and had been a rare honour to a hill state like Himachal Pradesh. He said that banning use of plastics had been successful and World Health Organization had also awarded State award for emerging Smoke Free State. He said that the State had been recognized as a pioneer State in the environment protection all over the country and won a number of prizes for the same. He appealed to the people of the State to take a pledge on World Environment Day to protect the pristine environment of the State along-with its flora and fauna.
Prof. Dhumal expressed hope that the publication would be of immense use for research scholars and also policy makers and planners. He underlined the need for regular updating of the data so that latest figures were available.
Dr. Srikant Baldi, Principal Secretary Finance and Planning, welcomed the Chief Minister and said that the objective behind bringing out the Compendium on Environmental Statistics was to create mass awareness in the society about the changes which were taking place on different environmental fronts. Pradeep Chauhan, Advisor, Economics and Statistics also detailed the contents of the publication and assured its regular updating.