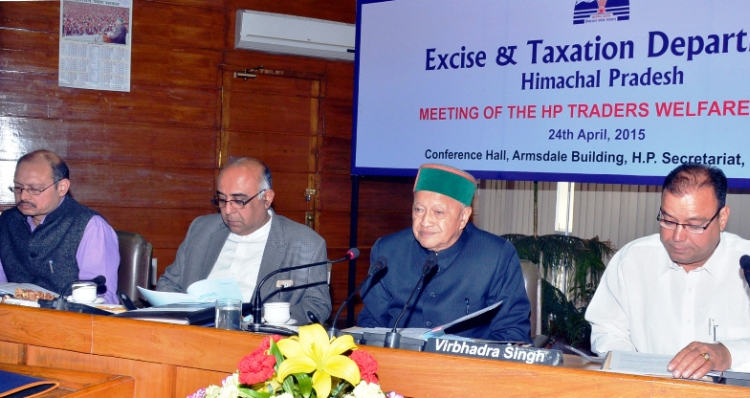 Shimla: To save traders from the arduous regular assessment procedure and frequently visiting the offices of Excise and Taxation Department, the Himachal Pradesh government considering to introduce 'deemed assessment system' for the traders having a turn-over of rupees one crore.
Chief Minister Virbhadra Singh, in the first meeting of re-constituted Traders Welfare Board here today, said that the traders would be informed about deemed assessment through website of the department and also by SMS on their mobiles.
Virbhadra Singh said that with a view to save the dealers from the hassle of uploading different returns under different Acts, the Excise and Taxation Department would provide a separate login-id through which they would be able to upload all returns.
He said that presently Dhabas, Halwai's, Tea and Chat Shops were exempted from payment of VAT if their turn-over was less than rupees five lakhs adding that from 1st April, 2015, the exemption limit for these dealers had been raised to rupees eight lakhs.
There were about 47,000 small traders having a turn-over of less than rupees 25 lakhs who were paying tax to the Government, said he, adding that such traders had been brought under the ambit of group accidental insurance cover of rupees two lakhs and premium would be paid by the State Government. At present, the dealers having turn-over up to rupees 25 lakhs who make purchases or sales within the State were only covered under the lump-sum scheme of Tax Payment under the VAT Act and henceforth those dealers who were to make even the Inter-State Purchases or Sales, would soon been brought under the Scheme.
The Chief Minister said that VAT on fabrication of body of trucks and buses, would be reduced from 13.75 per cent to 5 per cent.
He said that the exporters making purchases of industrial inputs within the State for export purpose would be provided the facility to purchase goods tax free within the State, on submission of requisite form. The certain goods carried by-road (CGCR) Tax levied on packaged water bottles would be reduced to make the packaged water industry competitive with other States, said the Chief Minister.
He said that the government had recently sanctioned construction of rope ways and in order to promote tourism the Government had reduced the rate of tax on 'Aviation Turbine Fuel' for non-scheduled airlines from 27 per cent to one per cent.
Earlier, Excise and Taxation Minister Prakash Chaudhary detailed about the activities and initiatives of the department.
Chief Secretary Vineet Chaudhary, Additional Chief Secretary Upma Chaudhary and V.C. Pharka, Principal Secretary Finance Dr. Shrikant Baldi, Principal Secretaries, Commissioner Excise and Taxation J. C. Chauhan were also present in the meeting besides non-official members and other senior officers of the Excise department.