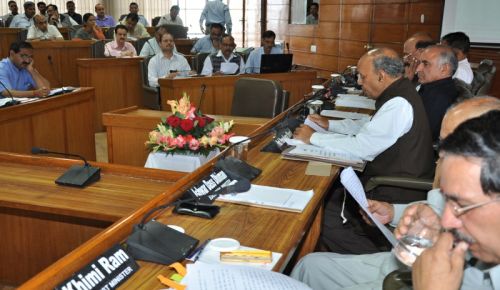 Chief Minister Prem Kumar Dhumal has called upon the officers to accelerate the pace of development in the State and added that the targets fixed under various schemes should be achieved well before the stipulated period, so that the masses at large could take benefits of the same.
Presiding over the State-level Planning Department and 20-point Review Committee meeting here today to review the progress, Chief Minister directed that funds allocated under plan schemes should be utilized fully and added that shortfall, if any would be viewed seriously.
Chief Minister said that the State ranked Ist in implementation of 20-Point Programme during last two years continuously and added that in 2011-12 it had maintained the position.
Prem Kumar Dhumal said that the State had utilized Rs. 3414.86 crore under Plan in 2011-12 against approved outlay of Rs. 3300 crore Annual Plan for 2011-12 which was 103.27 percent. He said that the funds of Rs. 13778 crore under 11th Five Year Plan were fully utilized by the State Government. He said that Rs. 3700 crore would be spent under Annual Plan 2012-13.
Chief Minister said that Himachal Pradesh was spending 25 percent of the total Annual Plan of the State under Scheduled Caste Sub Plan from 2008-09 and Rs. 914.64 crore would be spent under Scheduled Caste Sub Plan this year as against Rs. 231 crore spent in 2007-08 during previous Government regime. He said that inspite of appreciating State Government efforts, some persons were criticising the government alleging ignoring the interests of the SCs in the State which was a matter of concern.
He said that the State has proposed Rs. 22800 crore 12th Five Year Plan against Rs. 13778 crore 11th Five Year Plan which was 65% more. He said that target had been increased by 9.5 percent under 12th Five Year Plan against 11th Plan. He said that State Government had always made its best efforts to get additional funds under various developmental schemes so that the pace of development in the State was accelerated further.
Chief Minister said that 13th Finance Commission had underestimated the State's liabilities as a result of which the State had suffered adversely. He said that the Commission had not appreciated the problem of the State for reasons best known to it. He said that had it given increase to the State as given to other States, Himachal Pradesh would have received an additional finances of Rs. 10725 crore in five years. He said that keeping in view this, the State Government had urged Central Government to give special package of Rs. 5214 crore but the same had not been done by the Central Government. He said that loan limit of State had also been reduced by 1647 crore by the Central Government. He said that despite indifferent attitude of the Central Government the State Government had also cleared pay arrears accrued due to revision of pay scales as per the recommendations of 5th Pay Commission. He said that a target to provide Rs. 400 crore for MLAs priority during 2011-12 was kept by the Government but sanctions worth Rs. 423.71 crore were received against it. He said that Rs. 2002 crore had been spent under NABARD funding in the State in last four and half years against Rs. 1042 crore spent during five years regime of previous Government. He said that this speaks volume about the progress and development being made in the State under present Government regime. Prof. Prem Kumar Dhumal said that conferring of 67 Awards on the State in last four years by various agencies of national and international repute for the progress and public welfare was also testimony to the State Government efforts made in last four years for general good.
Prof. Dhumal said that despite financial constraints, the pace of development accelerated in the State and paucity of funds not allowed to come in the way of development. He said that uniform and balanced development of the State was carried out by the present Government and various developmental schemes and projects launched for the welfare of the people in the State. He said that State Government was according priority for education in the State and added that the efforts were afoot to make Himachal Pradesh as Educational Hub of the country. He said that vocational educational institutions were being set up as per requirement of industries and added that more than 30,000 Government jobs were provided by the Government so far. He said that one Industrial Training Institute was being opened in every Assembly Constituency so that more employment avenues were provided to the youth in the private sector. Chief Minister directed the PWD department to speedy up the work to complete the widening work of Theog-Hatkoti and Una-Mehatpur road so that people do not to face the any problem during ensuing apple season etc. He said that report of the work executed should be sent to Chief Minister office weekly which would be reviewed periodically. He also expressed concern on exports of grits to Punjab illegally which needed to be curbed. He said that ban on export of grits to Punjab and other neighbouring States should be imposed and more police personnel should be deployed to curb the menace. He also asked the officers to work with renewal zeal and dedication and shortfall in any scheme should not be allowed to come.
Prof. Dhumal said that State Government had given priority for implementation of election manifesto and Government has adopted it as a policy document. He said that almost all promises of election manifesto had been fulfilled by the Government besides doing work beyond that.
Thakur Gulab Singh, PWD Minister, I.D. Dhiman, Education Minister, Ravinder Singh Ravi, Irrigation and Public Health Minister, Mahender Singh, Transport Minister, Khimi Ram, Forest Minister and Virender Kanwar, Chief Parliamentary Secretary participated in the discussion and directed to accelerate the pace of development in the State.
Earlier, Chief Secretary S. Roy welcomed the Chief Minister and asked the officers to achieve the targets under various schemes well before the stipulated period. He said that each Department should prepare action Plan for 2012-13 and ensure proper utilization of funds accordingly so that people at large could be benefited. Dr. Shrikant Baldi, Principal Secretary, Finance and Planning presented vote of thanks. MPs, MLAs, Non-Official Members of the Committee, Principal Secretaries, Secretaries and other senior officers attended the meeting among others.