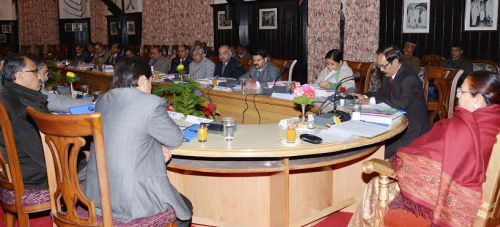 Palampur: Governor Urmila Singh underlined the need for introducing employment oriented courses in universities so as to enable youth to take up self employment ventures. This would empower youth in true sense as they would not only become independent but provide employment to others also, she added. She was addressing the 20th Senate Meeting of Chaudhry Sarwan Kumar Himachal Pradesh Agriculture University Palampur here today.
Governor stressed upon the need to intensify research activities in agriculture sector in order to improve the variety of crops as well as their production. She said that the role of scientists was more significant to achieve this objective and added that there was a need to reach out to the farmers and make them aware about the latest techniques. The findings of the research should be applied in fields, she said.
Singh said that the university scientists should identify alternate crops which were not damaged by monkeys and other wild animals and added that such crops should be commercially viable and fetch good prices to farmers in the market.
Governor emphasized upon holding awareness workshops regularly for farmers for educating them about these alternate crops besides latest techniques and information regarding agricultural production etc. She also stressed upon procuring proper feedback in order to improve the effectiveness of these workshops.
She said that the present times were witnessing revolution in the field of information and modern communication tools should be utilized to reach out to farmers. She said that television and radio were already playing a significant role in disseminating information to farmers in remote areas however mobile and internet services should also be used for better communication.
Governor directed the university authorities to convene the meeting regularly besides generating resources for effective financial management.
Dr. K.K. Katoch, Vice Chancellor welcomed the Governor and apprised her about the activities of the university. Sohanlal Chief Parliamentary Secretary and Ravi Thakur Vice Chairman National Commission for Scheduled Tribes, Deepak Sanan, A C S, Anita Tegta, Secretary to Governor, officers of state government and the university were present in the meeting.