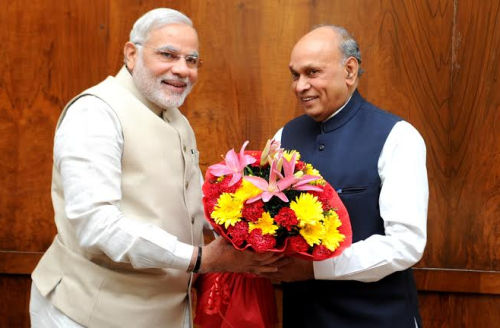 Leader of Opposition Prem Kumar Dhumal met Prime Minister Narendra Modi and congratulated him for presenting balanced and development-oriented budget.
Dhumal said that budget has successfully addressed the issues of every section of the society and Rs 1,000 crore budgetary allocation for meeting the long-pending demand of one-rank one-pension for ex-servicemen.
Former Chief Minister also expressed gratitude for Himachal being given an Indian Institute of Management (IIM). He also welcomed the decision of increasing income tax slab and hoped it to further increase to give relief to the common man.
Senior BJP leader has sought special allocation of Rs 100 crore for the strategic Bhanupalli-Barmana-Mandi-Kullu-Manali-Leh rail line and also urged Modi to make budgetary allocation for the completion of the ongoing work on the Una-Nangal-Talwara broad gauge line.