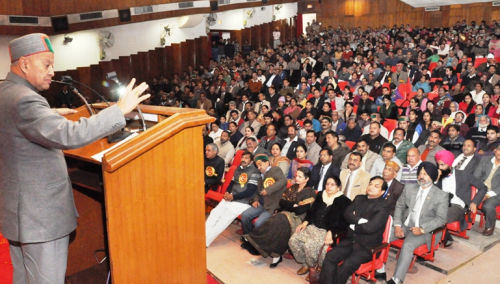 Chandigarh: Chief Minister Virbhadra Singh attended annual function of Himachal Mahasabha held at Bhargava Auditorium, PGI, Chandigarh. While addressing the Mahasabha, Singh said that the Himachal Pradesh has emerged as a front-runner State of the country in health, education and investment and credit this goes to the successive Congress Governments at the State as well Centre. This was stated by Chief Minister Virbhadra Singh while presiding over the
Virbhadra Singh said that the State was fortunate to have special benevolence of former Prime Ministers Pt. Jawahar Lal Nehru, Lal Bahadur Shastri, Indira Gandhi and Rajiv Gandhi. He said that today the State was fortunate to have blessings of Prime Minister Dr. Manmohan Singh and UPA Chairperson Sonia Gandhi who were equally considerate towards the development needs of the State. He said that when for the first time he contested the Lok Sabha election from erstwhile Mahasu, he had to travel over 1350 kms., on foot for campaigning as road connectivity was negligible, but today there were over 34000 kms., roads in the State. He said that cent percent villages stands electrified and all the villages have potable drinking water.
Chief Minister said that the industrial package announced for Himachal Pradesh was terminated midway due to pressure mounted by neighbouring States. He said that now this package has been extended till 2017 which would give boost to industrialization in the State. He said that people of Himachal had sacrificed a lot for sake of neighbouring States by giving their prime land for construction of Bhakra Dam. He said that thousands of people still waits proper rehabilitation. He said that this has resulted in prosperity in neighbouring States including Punjab and Haryana.
Virbhadra Singh said that Chandigarh was an important city of the region and it has emerged as a main centre of education, health and information technology. He said that people of Himachal Pradesh has also played a major role in making Chandigarh one of the major towns of the Northern India.
Chief Minister appreciated the efforts of Himachal Mahasabha Chandigarh for helping in preserving and showcasing the rich culture of the State at Chandigarh. He also appreciated the efforts of Chief Patron of the Mahasabha Rajender Rana in providing a platform for the people of Himachal Pradesh living in Chandigarh.
Chief Minister honoured Professor and Head Ortho, PGI, Chandigarh Dr. Raj Bahadur, Professor and Head Cardiology Dr. Yashpal Sharma, Professor of Eye Department, PGI Dr. M.R. Dogra, Executive Magistrate, UT D.S. Beloria and other dignitaries on the occasion.
Earlier, Chief Minister inaugurated blood donation camp organized by Himachal Mahasabha and also released a souvenir brought out on the occasion.
MLA and Chief Patron, Himachal Mahasabha Chandigarh Rajender Rana said that the Mahasabha was an apt platform for Himachalis living at Chandigarh. He said that Dr. Parmar was the founder of Himachal Pradesh, Virbhadra Singh was undoubtedly the architect of modern Himachal Pradesh.
Industries Minister Mukesh Agnihori, Former Union Minister and MP Pawan Kumar Bansal, General Secretary, Himachal Mahasabha S.L. Dogra, I.D. Lakhanpal, Chief Parliamentary Secretary, Vikramaditiya Singh, President, State Youth Congress, Balbir Singh Sidhu, MLA, Mohali, Kewal Singh Pathania, Vice Chairman, H.P. State Forest Corporation, Kulvinder Gurcharan Singh, Chairperson, IET, Badal, Madan Chauhan, Deputy Commissioner, Solan, Dr. Ramesh Chhajata, SP, Solan and other dignitaries were present on the occasion.