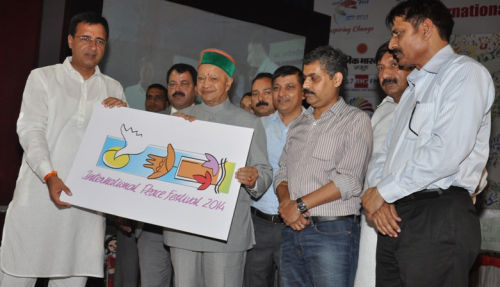 Chief Minister Virbhadra Singh said that in order to maintain global peace and harmony the role of youth was of paramount importance as the youth had always played a important role in making vibrant societies and rebuilding the nations world over.
Chief Minister was addressing a large congregation of youth at valedictory function of 8th International Youth Peace Festival held at Post Graduate Government College, Chandigarh today. About 500 youth delegates from 30 countries participated in this six days long Peace Festival organised by a Chandigarh based NGO 'Yuvsatta'.
Virbhadra Singh said that message of peace and non-violence of Mahatma Gandhi was still more relevant today as nations were confronting with various internal and external threats. He said that our county had always been one of the best examples of varied culture having values of harmony, unity and integrity. Our country had produced harbingers of peace who had spread the message of peace, communal harmony and non-violence world over, he added.
Chief Minister also cautioned the people, especially the youth to remain vigilant against the forces who had always tried to divide and create hatred amongst the community on the name of religion, cast, creed and culture. He said that despite of various threats our country had remained united and have always maintained greater human and cultural values.
Virbhadra Singh said that the State Government had introduced value based education in educational institutions. The history of freedom movement has been included in the syllabus to acquaint the younger generation about the sacrifices made by our freedom fighters for attaining freedom and to inculcate a spirit of patriotism in them. He said that the State Government was creating greater opportunities and better avenues for the youth.
Chief Minister released the logo for '9th International Youth Festival' and theme of International Peace composed and complied by the delegates themselves. He also gave away the mementoes to the delegates.
Industries Minister, Government of Haryana, Randeep Surjewala said that the Gandhian Philosophy was well acclaimed and followed by big leaders of various countries. He also appreciated the spirit of voluntarism among the youth and said that it was the essence of society to harmonise the peace. He said that today youth was our strength and vibrant stake holders; more than 50 percent of our population was below 50 years. He also appreciated the efforts of Yuvsatta for organising such a relevant festival in the City beautiful.
Tanjeela Khan, a challenged youth delegate from Pakistan, Ali Khan from Afganistan and Gagandeep from India shared their experiences of this Youth Peace Festival.
Dr. J.S. Raghu, Principal, PG Govt. College, Chandigarh welcomed the Chief Minister and other delegates. MLA, Rajinder Rana presented vote of thanks. The representatives of Himachal Pradesh Students Union (HPSU) also welcomed the Chief Minister.
Industries and Information and Public Relations Minister, Mukesh Agnihotri, Chairman, Himachal Pradesh Workers Welfare Board, Bawa Hardeep Singh, Coordinator, Yovsatta Pramod Sharma, Vikaram Rana, Coordinator, National Service Scheme (NSS) Chandigarh, Deputy Commissioner, Solan, Madan Chauhan, Superintendent of Police Solan Ramesh Chajjta, Senior Officers and prominent persons were also present on the occasion.