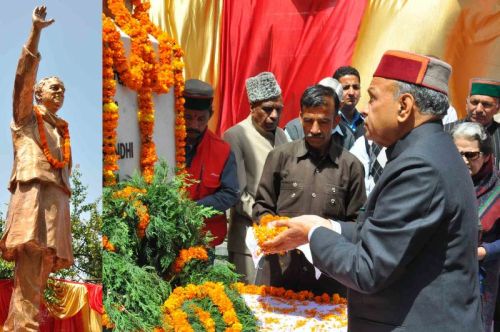 State Level Anti-Terrorism Day was observed by offering floral tributes by Prem Kumar Dhumal, Chief Minister, at the statue of former Prime Minister, late Rajiv Gandhi, at Sadbhawna Chowk, here today. May 21st is being observed as Anti-Terrorism Day all over the country since former Prime Minister, late Rajiv Gandhi, was killed in a terrorist attack.
Chief Minister administered Anti-Terrorism Pledge to the people assembled to pay their floral tributes to the former Prime Minister on his death anniversary. Devotional and patriotic songs were sung and 'Prabhat Pheries' were also taken out in the wee hours of the morning.
Vidya Stokes, MLA and Leader of Opposition, Virender Kanwar, Chief Parliamentary Secretary, Sukhvinder Singh Sukhu, MLA, former MLAs, Madhu Sood, Mayor, Municipal Corporation, Shimla, Maneesh Garg, Deputy Commissioner, Sonal Agnihotri, Superintendent of Police, Dr. M.P. Sood, Commissioner, Municipal Corporation, other senior officers and prominent people of the town were also present on the ocasion.