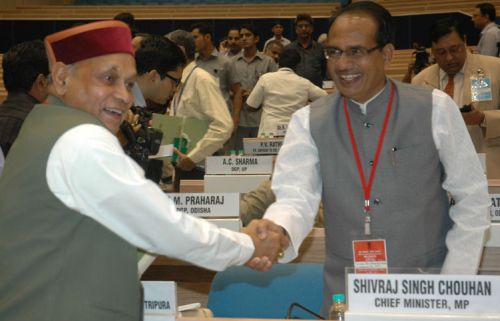 Himachal Chief Minister Prem Kumar Dhumal today raised the issue of handing over of Annandale ground to State Government.
Speaking in the Conference on Internal Security at New Delhi today, he said that since the lease of this ground had expired many years ago now the Army was occupying it illegally. He especially took up the issue of the army authorities raising the issue in media by not only distorting the facts but also making false and baseless allegations against the State Government and elected high functionaries. He demanded an enquiry into whole matter and asked for suitable action against all those responsible in this matter.
Chief Minister requested the centre to sanction one Marine Commando Unit for the State and demanded that Central Government should provide funding for raising marine commando unit keeping in view of the large hydel projects and rivers which are water sources in the State.
Prof. Prem Kumar Dhumal said that Himachal would provide four companies of India Reserve Battalions for deployment for strategic security duties in national capital New Delhi despite of severe manpower constraints and requested the Union Govt., to sanction two additional India Reserve Battalion in the state to meet various exigencies. He requested the centre to release Rs 32.97 crore central share of raising 5th and 6th India Reserve Battalion in the state and added that commando training has been imparted to men and women of two companies of India Reserve Battallion.
Chief Minister requested the Union Government for construction of strategic world class air field on the Indian side of Tibet border and also pleaded for construction of state of the art communication, construction of Bhanuppli-Bilaspur-Mandi-Kullu-Manali-Leh-Ladakh railway line in view of the enhance Chinese threat. Chief Minister Professor Prem Kumar Dhumal requested the Centre to sanction Rs 35 crore for strengthening training infrastructural and other facilities for maintaining high standard of performance and preparedness of the police personals in the state and added that 13th finance commission has not allocated any funds for training of police force in the state. He said that more than 1500 constables, 56 sub inspectors and 8 DSPs were recruited in the state during last one year to fill the vacancies in cutting edge level.
Prof. Prem Kumar Dhumal requested the Union Government to sanction Rs 800 crore central assistance for construction of around 6290 residential quarters and barracks to ensure basic amenities to the Police personnel in the State. He said that a Tibetan Refugee Unit has been set up in state intelligence department at Shimla with a tertiary cell at Dharmshala in consultation of Ministry of Home Affairs and Ministry of External Affairs and requested the Union Govt. to reimburse the entire expenditure being spent on this unit by the State Govt. He also requested the Union Govt. to bear entire expenditure for providing the vast security arrangements to His Holiness Dalai Lama and other high dignitaries by the State Govt.
Chief Minister requested the Central Govt. to subsidize regular helicopter services of the pattern of north eastern States particularly for tribal areas during winters which are cut off from mainland due to heavy snow fall. He requested the Union Government to sanction one battalion of National Disaster Response Force in the State to face various natural calamites and undertake rescue operation for tourists and trekkers during off season snow fall and offered land and other assistance from State Govt. in this regard. He requested the Union Govt. to provide technical, financial and logistical assistance to State Govt. to promote cultivation of alternative crops in mid Himalayan terrain in Kullu, Mandi, Chamba and Shimla districts which are suitable for cannabis and opium cultivations and requested Union Govt. to provide assistance for modernization, training and capacity building of Narcotics Control Bureau of the state govt.
Prof. Prem Kumar Dhumal requested the Union Government to give grant of Rs 15 crore annually to State Govt. for modernization of police forces and said that Union Government has unilaterally reduced the grant for state from Rs 10 crore per annum to Rs 5.8 crore and added grants given to the state under this scheme has been decreasing over the years .He also requested the funding pattern from present 75% to 100% under the scheme on the pattern of Jammu and Kashmir and north eastern states .He told that state has received Rs. 576.56 lakh under CCTNS project under national e governance plan out of which State Government has utilized Rs 148.3 lakh and rest of the amount will be fully utilized in time bound manner and told that all the police station in the state have been fully computerized and have online access.
Chief Minister urged the Union Government to meet the full expenditure of around Rs 30 crore being spent on maintaining peace along Jammu and Kashmir border by the State Government and said that two battalions of HP Armed Police alongwith four companies of ITBP are maintaining close vigil and high alert on border and regular interstate border meetings and intelligence exchange is held to check movement of suspicious elements in these areas. He pleaded for enhancement of wages of 471 special police offices deployed on border areas at par with home guards keeping in view of the rising living cost.