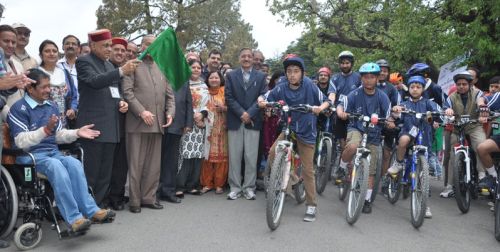 The newly formed cycling club Initiative for Cycle Enthusiasts (ICE) under the banner of Ashadeep launched its inaugural "Padal nahin toh Pedel hi sahi" thematic maiden cycle rally.
The cycle rally was flagged off by Chief Minister, Prem Kumar Dhumal at Chaura Maidan which is aimed at promoting mountain cycling in the state, to make the people health and environment conscious.
Dhumal appreciated the efforts of Ashadeep in making people aware of the environmental and health problems especially caused due to traffic hazards. He said that people should adopt walking habits where use of bicycle was not possible to solve traffic problem in the State. He further added that avenues will be explored to come up with cycle parking sheds and cycling tracks across the state and also make cycle available on rental basis to promote cycling.
Those offices in the state government who take to cycle as a mode of transport would be felicitated.
Sushil Tanwar, President, Ashadeep announced that the cycling event would be made as regular feature by holding four to five events annually. He further added that the rally route included steep uphill and down hill inclines to prove that cycling ,as mode of regular means of commuting can be used successfully in the mountain regions. As the next similar event would be held in June he appealed to the public to come forward and join the initiative to promote fitness, cycling and help protect environment.
As many as 50 cyclist enthusiasts from different walks of life participated in the event that included 11.25 kms controlled ride that started from Oak Over traversing through Ramchandra Chowk, Ridge and culminated at Chaura Maidan.
The competitive race track of 1.5 kms stretch from Cart Road- Annadale- Chauramaidan was a real test of the grit and determination of the cycle enthusiasts.
The winner trophy was bagged by Saatvik Sharma who finished the race track of 1.5 km in 15 minutes 35 seconds. The second and third prize went to Shashwat Bali, completing the track in 16 minutes 35 seconds and Sajal Sharma completing the track in 16 minutes 51 seconds respectively.
The event also witnessed participation of solitary girl student who was got felicitated with the appreciation award.
Supported by Ashadeep an Initiative for Cycle Enthusiasts (ICE) a club was formed on April 1 following huge response from the youth of Shimla and viewing poor access to good cycles.
The objective is to promote cycling as a means of transport as well as fitness, to provide youth with a cycling opportunity as an outlet for their energy as well as a means of entertainment, to conduct workshops and train members in maintenance of cycles, to build information, equipment and personal resources to promote adventure and eco-tourism, promote environmental awareness among members of the club and to make cyclists and pedestrians aware of their rights.