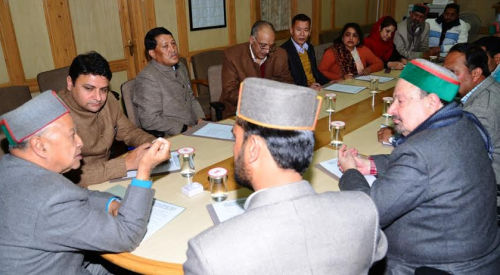 In the State Haj Committee meeting, Chief Minister Virbhadra Singh revealed that the State Government would provide financial assistance for organizing training and awareness camps for the Haj pilgrims in the State.
Virbhadra Singh said that a hall would be reserved at Himachal Bhawan New Delhi for providing stay facility to Haj Yatries for one week while they proceed for Haj. He said that the State Government was committed for welfare of every section of the society and various welfare Boards have been constituted to safeguard the interests of the minority communities.
Chief Minister said that the Haj Commttee Chairman and Members would be provided housing facilities at Government Rest Houses in the State on the analogy of Boards and Corporations and other Committees would also be covered under it.
Virbhadra Singh said that the State Government is committed to the socio-economic welfare and development of under privileged and weaker section of the society. He said that Government was providing social security pension to about 2,93,000 persons under different categories adding that all eligible applicants would be provided social security pension. He said that all the persons above 80 years, excluding those who were drawing any other pension, would be given pension of Rs. 1000 per month irrespective of any income limit.

Earlier, Dildar Ali Batt, Chairman, the State Haj Committee welcomed the Chief Minister and apprised him about the activities of the Haj Committee. He also thanked the Chief Minister for the constitution of State Haj Committee. He said that Haj Committee was not constituted during previous Government regime. He thanked the Chief Minister for constituting HP State Waqf Board alongwith Haj Committee within eight months of Government formation.
Sudhir Sharma, Urban Development Minister, Khwaja Khaleel Ullah, Chairman, Himachal Pradesh Waqf Board, Members of State Haj Committee, V.C. Pharka, Principal Secretary to Chief Minister and other senior officers of the State Government were present on the occasion among others.