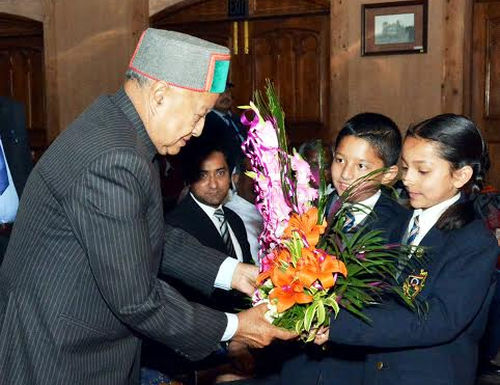 In the Annual Function of the Sacred Heart Convent School, Dhalli (Shimla) Chief Minister Virbhadra Singh has underlined the need to have firm belief in the Indian culture and traditions which were the basis of our identity.
He said that instead of going blindly after the western culture, we should follow our own culture and traditions adding that there was a need to inculcate spiritual, moral, intellectual and aesthetic values amongst the students.
Singh said that the State had made significant strides in the field of education and the government was endeavouring to maintain the highest standards of education. He said that Gross Enrolment Ratio (GER) of the State in respect of secondary and senior secondary education were much above the National average and the GER of many other States.
Virbhadra Singh said that Shimla town has many prestigious educational institutions and Sacred Heart Convent School, Dhalli was one of them. He expressed happiness that this school which got started in the year 2008 had emerged as one of the best educational institute of Shimla. He hoped that the students of this school would bring laurels to the school, State and the Nation.
Earlier, Sister Jacintha, Principal, Sacred Heart Convent School welcomed the Chief Minister and presented the annual school report. She said that it had been the earnest endeavour of Sacred Heart Convent School to move with the times and provide best education and moral values to the students.
Pratibha Singh, Ex-MP, Dr. Shrikant Baldi, Principal Secretary, Finance, other senior officers of the State Government, Principals of various private educational institutions and other prominent person of the town were also present on the occasion.