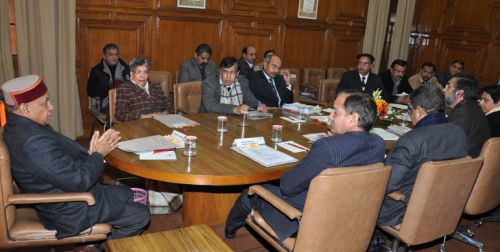 Chief Minister Prem Kumar Dhumal directed the authorities to ensure that every industrial unit established in the State to provide minimum 70 percent employment to Himachali educated unemployed youth as mandatory. He was presiding over the 58th Meeting of the State Level Single Window Clearance and Monitoring Authority held here under his Chairmanship.
The Authority approved for setting up of one new industrial unit and allowed expansion to two other existing units with an investment of Rs. 20.83 crore and generating additional employment to 161 persons.
Chief Minister said that the State had high rate of literacy and youth was well qualified and skilled to man any position in the industrial sector. He said that it had been made mandatory for every industrialists to provide a minimum of 70 percent employment to the Himachali youth in their units. He said that the State Government had associated the industrialists in the management committees of the industrial training institutes with a view to carry vocational training to the youth in the relevant trade which could ensure them employment and self employment.
He expressed happiness that most of the industrial units were implementing the mandatory provisions and providing employment more than the fixed percentage as well. He said that since the State Government was extending all cooperation to the industrialists in carrying forward with their industrial activities and in return expected them to become partner in the socio-economic development of the State by discharging their corporate responsibilities sincerely.
Prof. Dhumal said that disbursement of minimum wages approved by the State Government also needed to be ensured so that the young people dedicating their services for industrial growth were able to conveniently make their both ends meet. He directed the authorities to physically visit the industrial areas and ensure that every inch of the land allotted to them was being utilized for the bonafide purposes. He said that land being a scare commodity needed to be used very carefully leaving scope for further expansion of the industrial sector in future. He also directed that every industrial plan had to include housing proposals for its workers besides incorporating rain water harvesting and water re-cycling structures in the same. He said that the State Government was endeavouring to motivate industrial investors to disperse to the inner areas so that those areas were also benefited with industrial economy.
Kishan Kapoor, Industries Minister, said that regular monitoring of the industrial activities were being ensured besides redressing genuine grievances of the entrepreneurs in consultation of concerned authorities. J.S.Rana, Commissioner of Industries, welcomed the Chief Minister and conducted proceedings of the Meeting. Rajwant Sandhu, Chief Secretary, S.Roy, Additional Chief Secretary (Forests), Ajay Tyagi, Principal Secretary Industries, Dr. Deepak Sanan, Principal Secretary Power, P.C.Dhiman, Principal Secretary Home. Manisha Nanda, Principal Secretary Tourism, R.D.Dhiman, Chairman, HPSEBL, Mohan Chauhan., Special Secretary, Dr. Nagin Nanda, Director Environment, Sanjay Sood, Member Secretary, HP State Pollution Control Board, R.K.Sharma, Engineer-in-Chief, IPH, Dr. Rajender Chauhan, Industrial Advisor and other senior officers of different departments attended the Meeting.