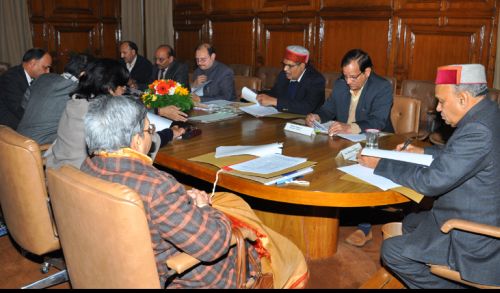 The State Level Single Window Clearance and Monitoring Authority (SLSWC&MA) in its 57th Meeting held here under the Chairmanship of Prem Kumar Dhumal, Chief Minister, today, granted provisional permission to five new industrial units entailing an investment of Rs. 424.60cr and generating employment to 1,972 persons besides approving two expansion proposals at an investment of Rs. 17 crore and additional employment to 46 people. The total investment of Rs. 441.60cr had been granted clearance which would generate employment to 2018 unemployed educated youth in the State.
Addressing the meeting, Chief Minister said that the goodwill created amongst the industrial investors of their safe investment in the State was yielding positive results as large numbers of proposals were pouring in from different quarters and prestigious industrial establishments were submitting their investment proposals for approval of the Authority. He said that this all had been possible due to the rapport the State had built up with the industrialists and quality infrastructure being made available to them. He said that Himachal Pradesh happened to be the privileged State which had built its credibility amongst the investors. He said that the State had been selective in granting permission to industrial proposals and only those which were eco-friendly and employment intensive, were being preferred. He said that the State had witnessed rapid growth in industrial expansion during recent years despite the fact the Government of India had withdrawn the Special Industrial Package announced during NDA regime three years ahead of its scheduled date of March, 2013.
Dhumal welcomed the industrial investment proposals in the clean and pollution free environment and assured that the State Government would be extending all help to them in completion of codal formalities and establishment of their units within minimum possible period of time. He said that basic infrastructural network was being strengthened in all the industrial areas and all required facilities made available to them. He said that the road communication network had been upgraded to facilitate smooth movement of the industrial traffic. He directed the authorities to ensure that regular supply of electricity and water etc. and also ensure that the same were not being misutilised. He also directed them to visit the industrial establishments to know about their problems and solve the same on priority besides ensuring that local youth were getting employment as per the policy of the State Government.
Kishan Kapoor, Industries Minister, said that infrastructural upgradation was in progress in all the industrial areas and he had been making it a point to visit industrial areas and meet entrepreneurs to know about their grievances. He said that all out efforts were being made to facilitate the investors and extend them full cooperation in carrying forward with their industrial activities. J. S. Rana, Commissioner Industries, welcomed the Chief Minister and conducted proceedings of the meeting. He detailed the status of industrial proposals which had been granted clearances by the Authority earlier.
Rajwant Sandhu, Chief Secretary, Harinder Hira and S. Roy, Additional Chief Secretaries, Ajay Tyagi, Principal Secretary (Industries), Dr. Shrikant Baldi, Principal Secretary. Finance, R.D. Dhiman, Chairman, HP State Electricity Board, J.C. Sharma, Secretary to the Chief Minister and other senior officers attended the meeting.