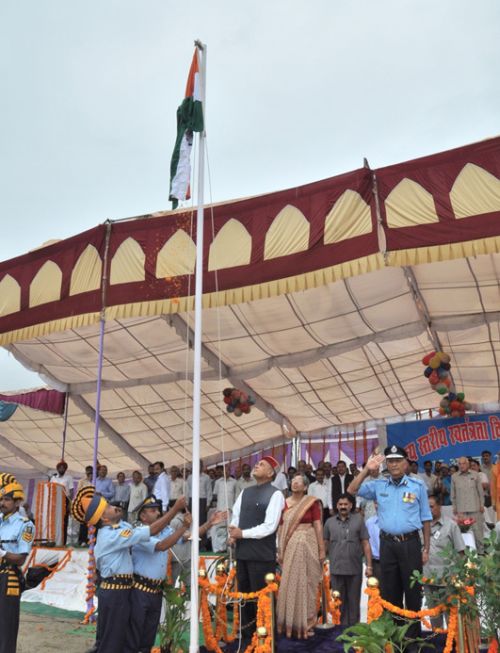 65th Independence Day was celebrated with great enthusiasm throughout the State today. Functions were organised at State, District and Sub Divisional levels to mark the occasion. Unfurling the national flag, march past presented by contingents of Police, Home Guards, NCC and cultural programmes were highlights of the celebrations.
State level function was organised at Badsar in Hamirpur district where Chief Minister Prem Kumar Dhumal unfurled the National flag and took salute at an impressive march past presented by contingents of Police, Home Guards and NCC. Kulbhushan Verma, DSP commanded the parade.
Speaking on the occasion, Prem Kumar Dhumal gave a clarion call to the people of the State to maintain the hard won freedom, unity and integrity of the country by rising above all considerations. He said that nefarious designs of some fissiparous tendencies who were trying to weaken the country should be given crushing defeat.
Chief Minister said that people of Himachal Pradesh had also played significant role in freedom movement by one way or other and marched shoulder to shoulder with other countrymen for the freedom of the country. He said that after getting freedom brave sons had been making supreme sacrifices by serving in the Indian Armed Forces be it Indo-China war, Indo-Pak war and Kargil Aggression. Hundreds of brave sons from the State lost their lives while defending the country.
On the occasion of Independence Day, Chief Minister announced enhancement of Samman Rashi of freedom fighters from Rs. 4000 to Rs. 5000 per month.
Prof. Prem Kumar Dhumal announced grant of 10 percent more arrears to class-III, II and I State Government employees on account of revision of pay scale on the recommendations of fifth Punjab Pay Commission. Class IV employees had already been given full arrears on this account. This will entail an expenditure of about Rs. 175 crore.
Chief Minister announced grant of social security pension to all eligible new 10535 persons at the rate of Rs. 330 per month under Social Security Pension Scheme from October this year. He said that his Government had enhanced the social security pension from Rs. 200 to Rs. 330 per month earlier which benefited 2.52 lakh eligible widows, elders and physically handicapped persons. 79033 new eligible persons had been sanctioned this pension by the Government during last three years. He announced that all persons of BPL families who have attained the age of 80 years and above would get social security pension at the rate of Rs. 500 per month from October this year.
Prem Kumar Dhumal said that Water Harvesting has remained our priority but there is a scope to do more. The women in the State play major role in water management for their families. To save them from hardships, Chief Minister announced providing of one water tank for each house in the State within next three years. Each tank will cost Rs. 58800. He said that there were 3243 panchayats in the State out of which 3202 had been declared as Open Defecation Free (ODF), out of these 2702 had been declared ODF by the Government. He announced to make Himachal Pradesh ODF by the end of this month.
Chief Minister announced setting up of two new separate departments for Women and Child Development and another for Scheduled Castes, Other Backward Classes and Minorities to expedite the socio-economic development of these sections. These new two departments would cover about 70 percent population of the State.
Chief Minister announced that all those having 70 percent or above disability would also be covered under National Health Insurance Scheme. He announced regularization of 1293 Gramin Vidya Upasaks who have completed eight years of service. Now they will get about Rs. 18,000 salary per month against Rs. 8,910 at present.
Chief Minister also announced enhancement in daily allowance of Home Guards from Rs. 170 to Rs. 200. This will benefit 6000 Home Guards in the State and would put a burden of Rs. 6 crore per annum on State exchequer.
Prem Kumar Dhumal said that clerical cadre play an important role in the implementation of State Government's policies and programmes. Keeping in view their role, Chief Minister announced recruitment of 1500 new clerks for different departments of the State. This will provide employment to the unemployed educated youth.
Chief Minister announced recruitment of 1000 JBT teachers. With this Himachal Pradesh would become first State in the country where no post of JBT would remain vacant. Prem Kumar Dhumal further announced to launch 2nd phase of Chief Minister Students Health Programme under which medical examination of 10 lakh students in government schools would be done.
Chief Minister announced to provide free medical care facility to infants upto the age of one year in all the Government health institutions. Prem Kumar Dhumal announced that all expectant mothers would be provided free medical facilities in government health institutions during pregnancy period. This scheme would be effective from 1st September, 2011.
Chief Minister announced hike of Rs. one per litre in milk procurement by H.P. Milk Federation to facilitate milk producers of the State. Prem Kumar Dhumal announced remission of sentence of prisoners those convicted with life imprisonment and above ten years would get remission of three months, those convicted for more than five years upto ten years would get two months, those convicted for three years and upto five years would get 45 days and those convicted for more than one year and upto three years 30 days and those convicted for three months and upto one year would get remission of 15 days.
Prem Kumar Dhumal said that Himachal Pradesh came into existence after eight months of freedom. It started from scratch but it was happy augury that today it had become model not only for hilly States but had shown the way for other States in the matter of development. He said that present State Government which took over on 30th December, 2007, had accelerated the pace of development in the State and gave it new direction. Government endeavour was to make Himachal Pradesh a self reliant State where there were ample opportunities of employment to the people and they could live with self respect and proudly say that they belong to Himachal Pradesh. He said that Government had succeeded to a great extent in achieving this objective and conferment of 45 awards for these spectacular achievements in last three years adjudged at national level vindicates it. He said that State had been ranked first for the last two years consecutively in the implementation of 20 Point Programme-major poverty alleviation programmes of the country. This showed the commitment of his Government for ensuring speedy socio-economic upliftment of poor, down trodden and weaker sections of the society, he added.
Chief Minister said that his Government had tried to benefit all sections of the society by implementing various schemes. He said that to give relief from price rise, all ration card holders are being given three pulses, two edible oil and salt on subsidised rates for which over Rs. 100 crore was being given as subsidy annually. He said that all the domestic electricity consumers were being provided electricity on subsidised rates for which subsidy of Rs. 166 crore had been given by the State Government this year which was Rs. 20 crore more than given last year. He said that four CFL bulbs had been given to each electricity consumer free of cost by spending Rs. 65 crore under Atal Bijali Bachat Yojna.
Chief Minister said that since 90 percent population of the State lived in rural areas and 70 percent dependent on agriculture, keeping this in view, State Government had given priority for strengthening the agrarian economy by implementing various ambitious schemes. These include Rs. 353 crore Pandit Deen Dayal Kisan Baagwan Samridhi Yojna and Rs. 321 crore Crop Diversification Project launched yesterday. Both these schemes aimed at strengthening the economy of the farmers.
He said that the State Government was also taking effective steps to strengthen the horticulture economy of the State to benefit the fruit growers. He said that support price was being given for apple and citrus fruits so as to ensure remunerative prices to the fruit growers. He said that present Government had enhanced the support price by 50 paise soon after coming to power and thereafter the fruit growers had been getting good prices for their produce in the markets. Ginger, tomato and potato had also been brought under agriculture insurance scheme. More and more area was being brought under irrigation by speeding up the work on ongoing irrigation schemes by providing additional funds. He said that Rs. 184 crore additionality had been provided for channelization of Swan River, phase-II and it was likely to complete by next year.
He said that Doodh Ganga Scheme had been implemented from 2009 in the State under which 25 percent subsidy was being given to general category and 33 percent to Scheduled Castes and ST beneficiaries for taking loans upto Rs. 15 lakh for milk related activities.
Chief Minister said that road, education and health are three sectors which has been given top most priority. He said that Government had made a plan to connect all the villages having population of 250 and above by roads upto year 2012 and all villages in the State irrespective of population criteria by 2020. He said that 3161 kms of roads had been constructed during last three years besides constructing 222 bridges. He said that three tunnels including Rs. 36 crore Bangana- Dhaneta would be constructed soon.
Dhumal said that in its endeavour to make Himachal Pradesh an educational hub of the country one Technical University, one Central University, one IIT, one ESI hospital and 11 private universities had been set up in various parts of the State during last three years. In government sector, one degree college, 70 senior secondary schools, 89 high schools had been opened during the period. Professional and technical courses had been given priority, he added. He said that during last three years, approval for filling up 18000 posts of teachers had been given out of which 13000 had been filled in and process to fill up the remaining was in progress.
Chief Minister reiterating his Government's commitment for speedy upliftment of weaker sections of the society said that an allocation of Scheduled Castes Sub Plan had been enhanced from 11 percent to 25 percent. Rs. 816 crore was being spent under it during current financial year against Rs. 231 crore spent during 2007-08. He said that Chief Minister Adarsh Gram Yojna was being started for integrated development of Scheduled Castes concentrated villages for ensuring integrated development of these. He said that for women of Scheduled Castes, Mata Sabari Mahila Shaktikaran Yojna was being implemented under which 50 percent subsidy would be given for gas and gas stove.
Prof. Dhumal said that for achieving objective of self reliance, the available natural resources were being exploited expeditiously. He said that for this, hydel power generation, tourism development and industrial development had been given added priority.
Chief Minister said that Rs. 36 crore had been spent on modernization of police organization during last three years. He said that 3021 posts of constable had been sanctioned for India Reserve Battalion, Jangal Beri, fifth Women Reserve Battalion in Naina Devi area and sixth India Reserve Battalion, Kolar in Sirmaur district. To benefit youth of the State, Rs. 17 crore had been spent on construction of stadiums, playgrounds, indoor stadium, synthetic tracks. He said that Rs. 6.55 crore would be spent on construction of synthetic track at Hamirpur and Rs. 6.98 crore at Dharamsala. A Cricket stadium had been constructed at Amtar in Naudan area of Hamirpur district with financial help of Himachal Pradesh Cricket Association.
Prof. Dhumal reiterated the resolve of the State Government to vouch for common man interests. He said that the State Government would again take up the demand of relocating Dogra Regimental Centre in Una and get them sanctioned One Rank One Pension. He said that special cash awards and annuity in analogy with gallantry Award winners was being provided to them in recognition to their exemplary services by them. He said that self employment avenues were being made available to ex-servicemen besides various incentives to their wards.
Chief Minster also makes few other announcements on the occasion. Chief Minister announced to upgrade the Government High School Badsar and Katiala to Senior Secondary Schools, upgrade of Ayurvedic Centre Datawal (Bijhari) to 10 bedded hospital. He announced ayruvedic centre at Sulhani and Lanijiala, Rs. 10 lakh each for construction of Ayurvedic Centre at Jaure Amb, Dankhera and Samtana and construction of Science Block at Government Degree College Badsar.