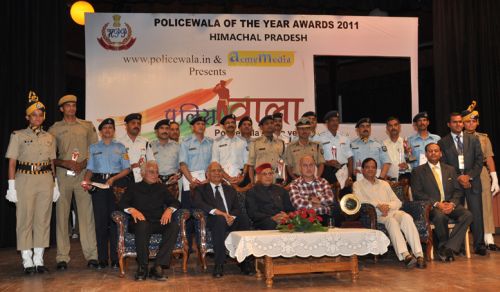 Chief Minister Prof. Prem Kumar Dhumal said that the State Government is ensuring a minimum promotion of honorary head constable to all the police constables in the State as also provide them housing facilities close to the police stations all over the State. He was addressing the 2nd 'Policewala of the Year 2011' award ceremony, at historic Gaiety Theatre here today after he honoured police personnel for their outstanding achievements in discharge of their duties. He said that the State Government is ensuring a constable with 16 years of service gets promotion, if otherwise not promoted, of Honorary Head Constable. He said that out of the total police personnel strength 10 percent retire as Assistant Sub Inspector, 400 as Sub Inspector and about 100 as Inspector.
Chief Minister said that State Government is spending Rs. 16.5 crore annually over strengthening of housing network for police personnel in the State with a view to provide them comfortable stay keeping in view the arduous duties they had been performing during odd hours. He said that 996 staff quarters were constructed during the implementation period of 9th Finance Commission which had facilitated the police personnel immensely. He said that more housing projects were being undertaken under Police Modernization in the State and hoped that soon the housing problem would be resolved to the optimum. He said that Rs. 10 crore had been spent over police housing projects during past three years by the State Government. He said that the State Police was among the best police force in the country which had been serving the people with dedication and humane touch.
Prof. Dhumal said that the State had got sanctioned three India Reserve Battalions during past three years which included one Women Battallion, the first in the State. He said that under the police modernization e-mail, e-samadhan, web portal and SMS services had been started to facilitate masses register their complaint and procure any information from the police department. He said that police personnel deployed in the field were the face of the government and their performance was directly reflecting upon the impression of the government amongst the masses. He said that similar was the case with other field functionaries who were required to serve the common man and vouch for their interests. He appreciated the skills of first batch of recruits of the First Women Battalion had acquired during their training and hoped that they would be maintaining the standard of service in future as well.
Chief Minister congratulated the winners of Policewala of the Year 2011 Awards and hoped that the awards would inspire other police personnel to work hard and perform better to win such Awards.
Prof. Dhumal honoured Dr. Atul Fulzele, Superintendant of Police, Virender Kalia, Deputy Superintendent of Police, Pramod Shukla, Deputy Superintendant of Police (Incharge CM Security), Seema Devi, Head Constable and Constable Sanjeev Kumar with a trophy and citation under Excellent Service Category; G.C.Bhargava, Deputy Inspector General of Police for Honesty; Gurmail Singh, Inspector for being Best Trainer; Sapto Kumar, Sub Inspector for Fight Against Crime; Anup Ram and Kulbhushan constables for outstanding Bravery; Susheel Kumar Sharma, Deputy Superintendent of Police and Santosh Kumar, Assistant Sub Inspector for Best Investigations; Balbir Singh, Deputy Superintendant of Police for Best Community Policing; Abhimanyu, Assistant Sub Inspector for Best Traffic Management and Ramesh Kumar, Head Constable for extra-ordinary services. Former Director General of Police R.R.Verma was Awarded Life Time Achievement Award. Anupam Kher and Dr. D.S.Manhas, Director General of Police, joined the Chief Minister in giving away the Awards.