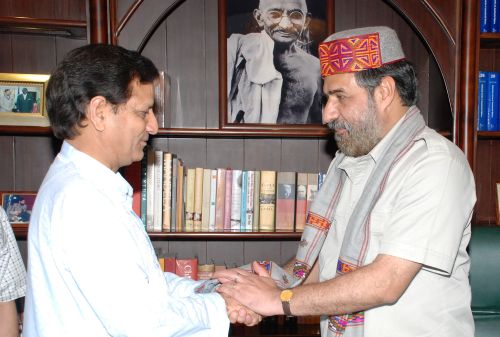 Centre releases Rs 75.83 crore central capital investment subsidies to the industrial units of Himachal Pradesh for current financial year. Industry minister Kishan Kapoor confirms it after the meeting with union commerce and industry minister Anand Sharma at Udyog Bhawan New Delhi today.
He told that the amount has been released to The Himachal Pradesh State Industrial Development Corporation Shimla which has been declared as nodal agency for disbursement of the subsidy/incentives to industrial units in the state eligible under central capital investment subsidy scheme 2003. He told that state Govt has utilisized the entire sanctioned amount of Rs 29.84 crore during last financial year.
Kishan kapoor requested the central Govt to sanction 2.88 crore as central share for construction of approach road to proposed inland container depot at Baddi which is being constructed with total cost of 3.21 crore rupees. He told that state Govt has submitted the revised detailed project report with commerce ministry for partly funding the project. He told that proposal has been deferred twice in the empowered committee meeting and requested union minister to intervene to release the funds immediately .He requested union commerce minister Anand Sharma to provide liberal financial assistance for construction of Rs 11.84 crore cost truck parking facility at Sandholi at Baddi in Solan district for smooth flow of traffic and told him that parking facility will provide space of 1500 vehicles which are otherwise parked at different locations alongside the roads leading to traffic jams in the area .He told that Baddi-Barotiwala-Nalagarh development authority (BBNDA) has prepared detailed project report in this regard which has been sent to union commerce ministry for funding the project. He told that the proposal has been twice listed in the empowered committee meeting for approval but has been deferred and request the union minister for early sanction of the project.
He told that a central delegation will visit the state shortly to examine the scope for revival of Nurpur silk mill to give boost to the silk industries in the state. He demanded incentives for silk industries particularly for skilled manpower and producers to boost the silk trade and open new vistas for silk industry at national and international level.
He also demanded the marketing facilities for handicrafts and handloom industries at national and international markets and told that the demand of the handloom and handicrafts has increased manifold in recent years and the state should be given incentives and facilities to tap the market which will strengthen economy at grass root level besides providing employment opportunities to village artisans and skilled workers.
Union commerce minister Anand Sharma appreciated the points raised by state Govt and assured positive response in this regard. He told that he gifts Himachali handicrafts and handloom products to all the international level dignitaries who meet him during their visit to India.