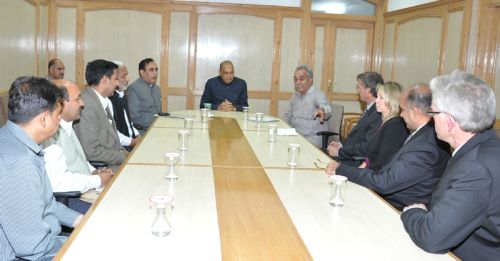 A team of New Zealand horticulture experts is visiting Himachal to look into the areas to develop better facility for apple cultivation in the region. Although Himachal is leading apple producing state in the country, yet its quality is old and needs replacement with high yield variety that will increase production and deliver export quality fruit.
A New Zealand horticulture expert today meets Chief Minister and Horticulture Minister and discusses the plan to introduce exportable multicultural varieties. New Zealand is one of highest apple cultivating country and their expertise will definitely help to revamp the old variety with the new one. In the meeting, Chief Minister said that the State Government is willing to provide land for development of demonstration orchards to carry research and development of latest varieties of apple at the Dr. Y.S.Parmar University of Horticulture and Forestry, Nauni, Khara Patthar and in Bajaura.
New Zealand horticulture experts Andy Megart said that Himachal has great potential to grow varieties developed in New Zealand. He also added that his invented high yield varieties will strengthen the State's economy. He appreciated the hard-working Himachali farmers and will happy to see them prosper.