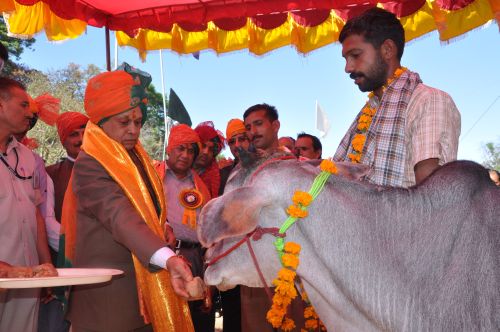 The State Level week-long State Level Nalwar Fair at Sundernagar that is known as a biggest cattle fair of North India started in Sundernagar. Chief Minister Prem Kumar Dhumal inaugurated fair with the puja of pair of Bullock. He said that it was a part of rich Hill tradition that the Nalwar fair, which was more than 500 years old was still so popular here and enjoys the statues of biggest cattle fair in Northern India. He said that Cow and Bullocks are part of life of Hill culture and it should be preserved at all cost.
While addressing the gathering, he said that by the end of 2012 every Panchayat in H.P would be having its independent veterinary Dispensary. He said till now 1272 panchayats were not having any veterinary Dispensary and the farmers of the state were facing great problem due to lack of proper facility of veterinary. Eying the problem Govt has opened 187 veterinary Dispensaries and 900 veterinary pharmacists were being trained and Govt has decided to open veterinary dispensary in every panchayat by the end of next year.
Mr Roop Singh MLA Sundernagar , Dile Ram MLA Nachan were also spoke on occasion and thanked the Chief Minister for sanctioning of various on going developmental works in this area. Jai Ram Thakur Pancyati Raj Minister and MLA Gopalpur Inder Singh along with other senior BJP leaders and officials were present on the occasion.
Mahesh Chander Sharma