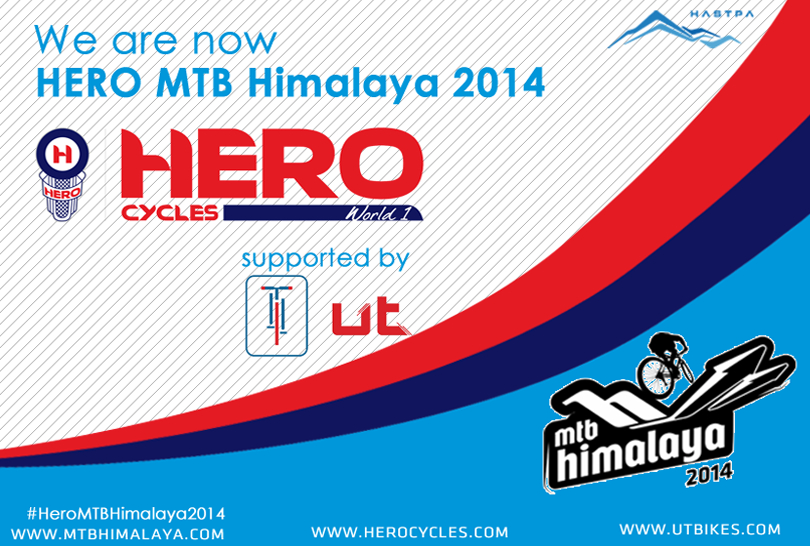 The 10th edition of Asia's premier and toughest MTB race – Hero MTB Himalaya 2014 will see 65 national and international cyclists from across 12 countries like India, Portugal, Austria, Holland, Poland, Germany, Canada, Nepal, Belgium, Bangladesh, Columbia and UK participating in the race.
In the 10th edition of Hero MTB Himalaya, three young boys from Himachal Pradesh Devendar Thakur, Gurman Reen and Ankush Arya will also compete with the top national and international rider from across the world.
This edition is will also feature 25 cyclists from Indian Armed Forces, 17 from Indian Army, 6 from Indian Air Force and 2 riders from Indian Navy.
The race will start from 26th September (flag off – 27th Sep) from historic Hotel Woodville Palace, Shimla and will culminate on 3rd October at the same place.
The cyclists will cover distance of 500KM with the elevation of approx 2000-2500m each day and maximum elevation during the event will be 3,050 m.
Hero MTB Himalaya 2014 features Cross Country, Enduro type of race and cyclists will have show their talent in the section of Off-road, Broken Tarmac, Gravel, Rocks, Mud, Sand, Lose Rock and Single track.
The route of the race
Day-1: 27th Sep 2014 – Woodville Palace, Ridge, Sanjaulli, Dhalli, Mashobara, Bekhulti, Sarog, Kyaartoo, Kelvi, Gadakuffar.
Day-2: 28th Sep, 2014 – Gadakuffar Matiana, Shilaroo, Kyara, Jal, Narkanda, Kachinghatti, Faral, Kumarsein, Kingal, luhri, Tipaldhar, Nagaan, Shwaad.
Day-3: 29th Sep, 2014 – Shwaad, Paneo, Shush, Jalori, Jibbi, Gadagushaini.
Day-4: 30th Sep,2014 – Rest Day
Day-5: 1st Oct, 2014- Gadagushaini, Khaoli, Chatri, Shawaad, Nagaan, Tipaldhar, Luhri.
Day-6: 2nd Oct, 2014 – luhri, kingal, Baragaon, Chamolikhad, Nag Jubbar, Matiana, Kelvi, Gadakuffer.
Day-7: 3rd Oct, 2014 – Gadakuffar, Matiana, Kelvi, Dharampur, Kyartoo, Sarog, Bekulthi, Mashobra, Sanjauli, IGMC, Ridge, Chalet Day School, Woodwille Palace
The Hero MTB Himalaya 2014 is bigger and toughest ever. The routes are more beautiful and toughest so far. The longest day of the route will be of 120KM where the rider would go through the true test of endurance.