Solan: Shoolini University and Daffodil International University, Dhaka, Bangladesh, signed a Memorandum of Understanding (MOU) to promote academic and cultural exchanges between the two institutions through mutual assistance, especially in the areas of teaching and research.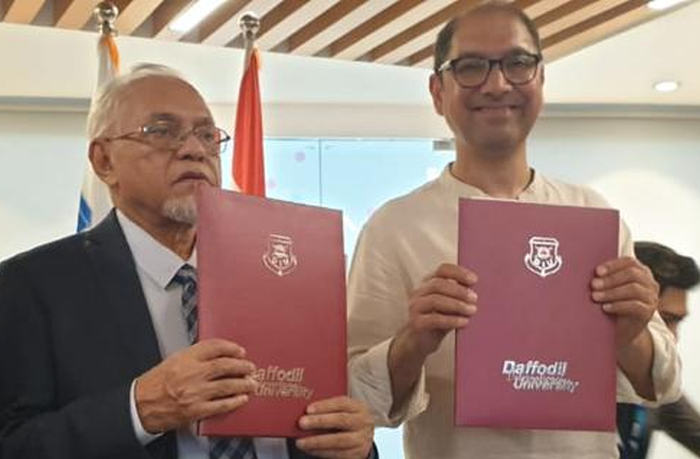 The MOU was signed by Prof. Atul Khosla, Vice-Chancellor of Shoolini University and Dr M. Lutfar Rahman, Vice Chancellor of Daffodil International University in Dhaka. Prof. Khosla was invited to join the 10th Convocation of Daffodil International University as the Convocation Speaker. The convocation ceremony was held at Daffodil Smart City, Birulia, Dhaka, Bangladesh.
The Agreement of Cooperation will facilitate the development of specific cooperative programmes.
Cooperative relations shall be carried out through activities such as the exchange of students, who have received a grant and who fulfil the entrance level of each institution. They will be treated as fully accepted students of the school, faculty, or department concerned, with all the same rights and regulations.
The faculty exchange programme includes the exchange of academic staff for a short duration in order to share expertise and knowledge among staff and students of both institutions. Both institutions also have an agreement on research degrees, the provision of placements, and support for Master's students undertaking a period of research and placement at the partner institution.
The MoU provides access to the library database, journals, and other online resources for both staff and students of each university and both universities also agree to participate in short-term summer and winter programmes arranged by other partner institutions.
Shoolini University and Daffodil University will also facilitate their application for internship placement at a partner institution. The agreement also provides that each institution may arrange scholarship opportunities for meritorious students of a partner institution and cooperate accordingly.