Shimla: Since the announcement of Lok Sabha election 2019, the Police and Excise departments have seized Rs. 4,01,000 cash, 3226.645 litres country liquor, 499.35 litres english liquor, 77.983 litres beer, 100000 litres lahan.
The police has also seized 4622.96 grams charas, 93.47 grams heroine, 56 spasmo proxyvon capsules and 2.65 kilogram poppy husk.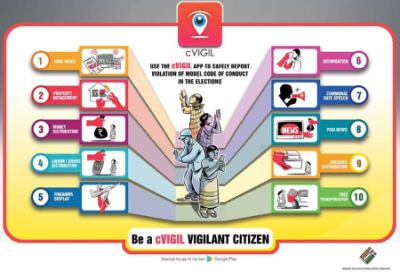 Similarly, exercising its duty to curb irregularities during elections, Excise department has seized 253.705 litres country liquor, 52.875 litres Indian made foreign liquor, 9.165 litres beer in 167 raids with an amount of Rs. 104600 fine imposed on violators.
As per the instructions of Election Commission of India (ECI), as many as 15205 licensed arms have been already deposited to police to ensure fair elections.
According to Complaint Monitoring Report, Chief Electoral Officer (CEO) office has received 40 complaints which included 23 through general public, 13 through political parties and 4 through ECI. All complaints have been sent for concerned departments for enquiry and reports, out of which 7 reports have been received. 7 complaints have been disposed off and one has been sent for ECI clarification and 33 complaints are still pending.
To keep tab on the poll violation, the Election Commission of India has launched an online application 'cVIGIL' for citizens to report model code of conduct expenditure violations during the election period.
Vigilant citizen can download cVIGIL from Google Play Store. Application allows vigilant citizens to give live reports on incidents of poll violation within minutes of having witnessed them. One need not to rush any more to the office of the returning officer.
cVIGIL provide time-stamped evidentiary proof of Model code of conduct. The application is based on GIS technology and this unique feature of auto location provides fairly correct information which can be relied upon by flying squads to navigate to the right spot of incidence and take prompt action. Not only cVIGIL act as potent decision support system tool for election machinery but also ensures participation of common man in conducting free and fair elections.
Once an incident of poll code violation is reported by cVIGIL Citizen App, it is forwarded to a Flying Squad for investigation. In case of a registered complaint, a unique ID number is generated to allow the citizen to track her complaint status. Anonymous complaints do not get any identification numbers for tracking purpose. cVIGIL has been successful in Chhattisgarh, Madhya Pradesh, Mizoram, Rajasthan and Telangana assembly elections where around 68 percent of the total complaint were registered from cVIGIL.