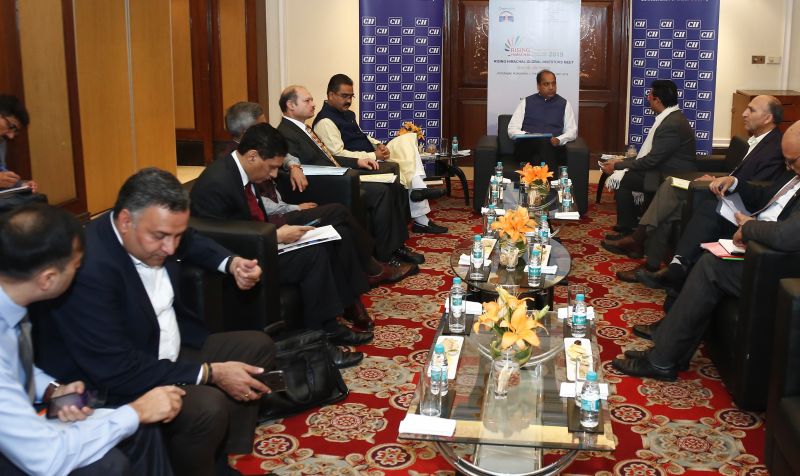 Hyderabad: To showcase the investment potential of Himachal and invite the entrepreneurs for investment, the Himachal Pradesh government in association with the Confederation of Industries (CII) organized Road Show-Business to Government' at Hyderabad.
State Chief Minister Jai Ram Thakur stated that the Himachal Pradesh Government has an investor friendly 'Industrial Policy' which provides several concessions and incentives to the entrepreneurs interested to invest in the State.
Jai Ram Thakur assured that the investors willing to invest in industry, tourism, education, healthcare, food processing would be provided with land parcel with good connectivity and supporting infrastructure.
The Chief Minister said that the pollution-free environment of the State makes it a major player in information technology and biotechnology sectors. He said that Pharma was another sector which could be an ideal destination of investment.
He said that of private sector participation could be fruitful in areas like tourism, infrastructure and industrial infrastructure, including housing, power generation, CA store, software technology parks etc. He said that with pristine atmosphere, peaceful environment, cultural diversity and linguistic the State offers visitors a variety of choices-adventure, wildlife, eco-tourism, wellness centres, heritage, spiritual, monuments, religious, skiing etc. The State Government was committed to make tourism one of the prime engines of growth in the state by establishing the State as a leading global sustainable tourism destination, he added.
Jai Ram Thakur said that since Himachal was a major producer of fruits like apple, plums, apricots, kiwis, walnuts and pears, thus offers abundant opportunity for food processing and allied industries.
He also had one to one meeting with several heads of major companies on the occasion and several entrepreneurs showed interest to invest in the State.
Apart from addressing representatives from over 150 companies, the Chief Minister also had meetings with CEOs and Leaders of leading companies including Apollo Hospitals, Dr Reddys Lab, Ramky Enviro Engineers, ITC Ltd, DP Chocolates, KSK Energy, Micromax, MNR Group, 2E knowledge Ventures, NephroPlus, Dodla Dairy etc., to discuss their investment plans for Himachal Pradesh.
N.R.Alluri Managing Director Nagarjuna Construction Company showed interest in investing in projects related to resorts, hotels, roads, tunnels and bridges. Anil Chalmashetty, CMD Greenko Company evinced interest in setting up integrated renewable energy storage projects in the State. Masood Malik, Joint Managing Director Ramey Enviro Engineers pitched to set up waste management and bio-medical waste management plants in the State.
Prakash Pai, Director Puzzolona Machinery Fabricators showed interest in investing in food processing and real estate. Joint Managing Director, Apollo hospitals showed interest in expanding telemedicine in remote areas of the State as well as in setting hospitals and diagnosis centre.
Managing Director and Co- Chairman Dr. Reddy's G.V. Prasad envisaged interest in expansion of their unit at Baddi. CEO 2E Knowledge Vebtures Pvt. Ltd expressed willingness to invest in setting up training centres for skill development in the State. Nephro Plus showed interest in setting up dialysis centres across the State. MD Dodla Sunil Reddy envisaged interest in setting up dairy infrastructure in the State.
Similar event was organized at Bengaluru, where business entity viz. Toyota Kirloskar Auto Parts, Max Hypermarkets Pvt. Ltd., Automotive Axles Ltd., Dell International, Indo Nissin, Volvo India Private Ltd., Amazon India, Royal Orchid Hotels, India Electronics and Semiconductor Association, Metro Cash and Carry showed keen interest in investing in the State.