Bengaluru: Himachal Pradesh Chief Minister Jai Ram Thakur assured to provide all possible support to entrepreneurs interested to invest in Himachal Pradesh.
The Chief Minister, in a 'Road Show-Business to Government' at Bengaluru today, invite entrepreneurs to participate in the 'Himachal Pradesh Global Investors Meet-2019' slated to be held at Dharamshala in June.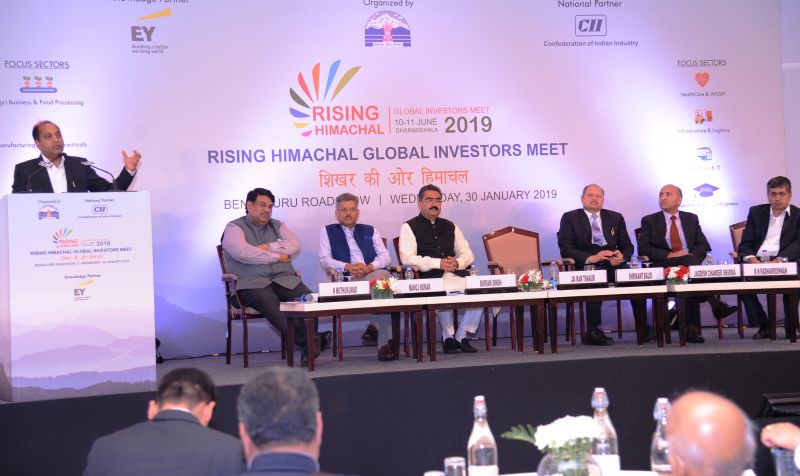 Thakur said that Himachal Pradesh was emerging as the next big growth story of India, displaying a robust GSDP growth rate in the past years. He said that the State government has prepared industrial policy which aims to establish state-of-the-art infrastructure, promote manufacturing sector, enhance inclusivity, foster innovation and create employment opportunities across the sectors.
He said that the State has vast potential to invest in various sectors like tourism, electronics and information technology, education and skill development, urban development/ real estate development, healthcare and Ayush, Manufacturing, pharmaceuticals, infrastructure and logistics, power and renewable energy, agro and food processing etc. Each of these sectors offers ample investment opportunities in the State. He said that the salubrious climatic condition and diverse natural settings make the State a best destination for investment in the tourism sector.
The Chief Minister stated that the state government committed to ensure efficiency, transparency, timeliness and accountability in providing basic services to the citizens of the state, and the Himachal Pradesh Single Window (Investment, Promotion and Facilitation) Act, reflects its commitment.
He also had one to one interaction with Managing Director Toyota Kirloskar Auto Parts K.G.Mohan Kumar, Max Hypermarkets Pvt. Ltd. MD Rajeev Krishnan, Chief Financial Officer Raghavendran Swaminathan, President Automotive Axles Ltd. and Chairman CII Karnataka Dr. N. Muthukumar, Group Director Government Affairs and Public Policy Dell International Tabriz Ahmad, General Manager Indo Nissin Yogesh Vora, Chief Executive Officer Darashaw Barman Mehta, Principal Secretary Commerce and Industries, IT and BT Gaurav Gupta, President and Managing Director Volvo India Private Ltd., CEO Namma Nimma Cycle Foundation Murali, CEO Indian Designs Ravi Kumar, Director Seller Gopal Pillai Amazon India, MD Royal Orchid Hotels Chander Baljee, India Electronics and Semiconductor Association President Rajesh Ram Mishra, Head Corporate Affairs Metro Cash and Carry Bhanu Arora etc. All these industrial houses showed keen interest in investing in the State.