Shimla: Himachal Pradesh Chief Minister today reviewed Swine Flu measures taken by the administration. Jai Ram Thakur asked to sensitized people about the symptoms, cause and treatment of swine flu so that immediate and timely treatment could provide to the patient.
Chief Minister directed the officers to sensitized people about the symptoms and preventive measures to be taken to avoid spread of this disease. He asked for complete analysis of positive cases so that preventive measures could be taken to check spread of disease. He directed to deploy special medical teams in most affected areas.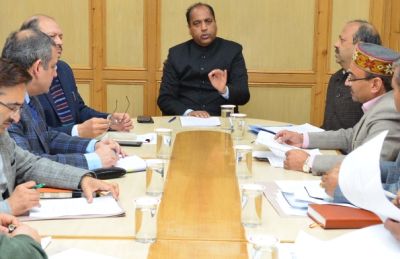 Chief Minister said the State Government was sensitive enough towards not only with regard to the availability of medicines, but also strengthening the infrastructure as well.
To ensure better treatment of swine flu, 12 beds facility isolation ward has been formed in IGMC Shimla and one more ICU of four beds facilities has been added to the existing infrastructure so that this disease can be managed effectively. Administration has also made advanced stock of 8000 capsules in IGMC Shimla to meet out any untoward impact of swine flu outbreak.
The state has found 86 positive cases and about dozen people have lost their lives. As many as 270 tests were done in the State for swine flu.
Chief Secretary B.K. Agarwal, Additional Chief Secretary cum Principal Secretary to the Chief Minister Dr Shrikant Baldi, Additional Chief Secretary Health R.D. Dhiman, Additional Principal Secretary to the Chief Minister Sanjay Kundu, Director Health Services Dr Ajay Kumar Gupta, Principal IGMC Dr Ravi Sharma, Sr Medical Superintended Dr Janak Raj, Director NHRM Manmohan Sharma, Dr Sonam and other senior officers were present on the occasion among others.