55 CNG stations to open in state and industrial and commercial units to be supplied piped gas
Shimla: Over 60,000 households in six districts of Himachal Pradesh will be supplied liquefied petroleum gas through pipeline, Chief Minister Jai Ram Thakur at a function organised by Indian Oil-Adani Gas Private Limited (IOAG) on the occasion of foundation stones laying ceremony of city gas distribution projects.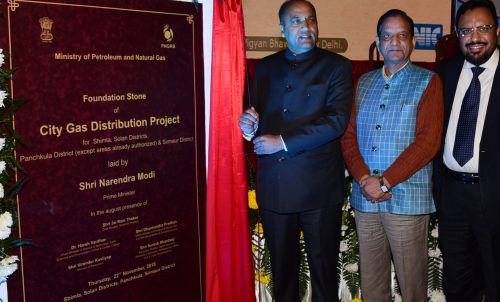 The Indian Oil-Adani Gas Private would develop city gas distribution network in Sirmaur, Solan and Shimla districts, while Bharat Gas Resources Limited in Bilaspur, Hamirpur and Una districts.
Apart from distributing pipeline gas to over 60 thousands households of the state, more than 55 CNG stations would be set up in the state and besides kitchen, the natural gas would also be supplied to industrial and commercial units.
The Chief Minister said that this system would also go a long way in checking air pollution and bringing improvement in public health adding that it would also generate investment and employment opportunities in the years to come.
He said that Baddi, Parwanoo and Barotiwala have been covered for development of city gas development network which are under development along-with Chandigarh by Indian Oil Corporation Limited and IOAG which would ensure CNG and PNG supply in Himachal Pradesh. The Chief Minister said that natural gas in the form of CNG is 60 percent cheaper than petrol and 45 percent cheaper as compared to diesel while in piped natural gas form it is 40 percent cheaper than LPG in market rates.
The Chief Minister said that Ujjwala scheme of government of India has proved to be a boon for the citizens of India especially for hilly states like Himachal Pradesh with tough topographical conditions, where there is high dependency on timber for fuel. The state government has taken up a step ahead to benefit those families who are not covered under Ujjawala scheme by starting Himachal Grihini Suvidha Yojana. So far, more than 33,000 LPG connections and stoves have been distributed free-of-cost to the beneficiaries.