Former Prime Minister Atal Bihari Vajpayee breathed his last at AIIMS Hospital, New Delhi at 5.05 pm. He was 93.
AIIMS announced the demise of the BJP veteran and Bharat Rattan saying, "It is with profound grief that we inform about the sad demise of former PM of India Shri Atal Bihari Vajpayee at 5.05 pm on August 16."
Vajpayee was admitted to AIIMS on June 11 and was stable in the last nine weeks under the care of a team of AIIMS doctors.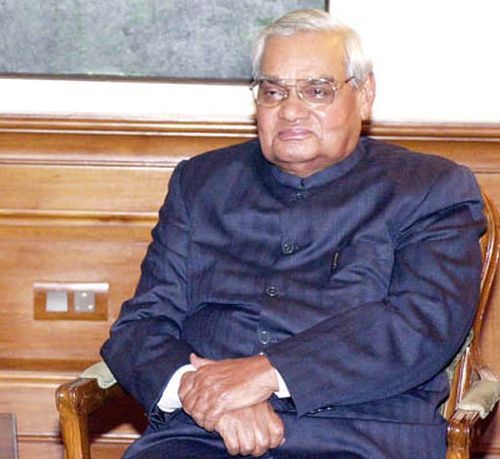 The Government of India, as a mark of respect to the departed dignitary, decided to observe seven days of State Mourning throughout India from 16.08.2018 to 22.08.2018. During this period the National Flag will be flown at half-mast throughout India where it is regularly flown and there will be no official entertainment during the period of State Mourning. It has also been decided that the State Funeral will be accorded to late Shri Atal Bihari Vajpayee at Smriti Sthal, New Delhi.
All Central Government offices and CPSUs across the country, and Delhi Government offices in NCT of Delhi will observe half day holiday in the afternoon of day of funeral. National Flag shall also fly half-mast till 22.08.2018 in all Indian Missions/High Commissions of India abroad.
Himachal Chief Minister mourns sad demise of Vajpayee
In his condolence message, Chief Minister said that Shri Vajpayee was a statesman and a visionary leader, whose demise is a great loss to the nation. He said that Shri Vajpayee always considered Himachal Pradesh as his second home and has a house at Prini in Kullu district. He said that the people of the State would always miss the benevolence and special attachment of Shri Vajpayee ji with the State and its people as his demise was a personal loss to the State of Himachal Pradesh.
Chief Minister said that the idea to construct Rohtang tunnel connecting landlocked hinterland Lahaul valley with rest of the world was conceived in 1998 by Shri Vajpayee and the project was announced by him on June 3, 2000. He said that this project was nearing completion and would be the biggest gift of Shri Vajpayee to the State.
He said that it was National Democratic Alliance (NDA) government led by Shri Atal Bihari Vajpayee that Himachal Pradesh got special package for industrial development in 2003. He said that this resulted in industrial investment of thousands of crores of Rupees and employment opportunities to lakhs of youth of the State.
Jai Ram Thakur said one of the largest educational programs in the world, 'Sarva Shiksha Abhiyan' was launched during his Prime Ministership. The program was a product of strong will power of this statesman, he added.
Chief Minister said that it was during the tenure of Shri Vajpayee that the Golden Quadrilateral, the lifeline of trade in India came into being. In addition, 'Pradhan Mantri Gramin Sadak Yojna' (PMGSY) aimed at linking the 5 lakh villages of India to cities by all-weather roads, which in particular proved a boon to the hilly states like Himachal Pradesh, he added.
State Govt declared Two Days holiday
The State Government has also declared public holidays for 17th and 18th August, 2018 as a mark of respect and to enable people to pay their last respects to the departed soul.