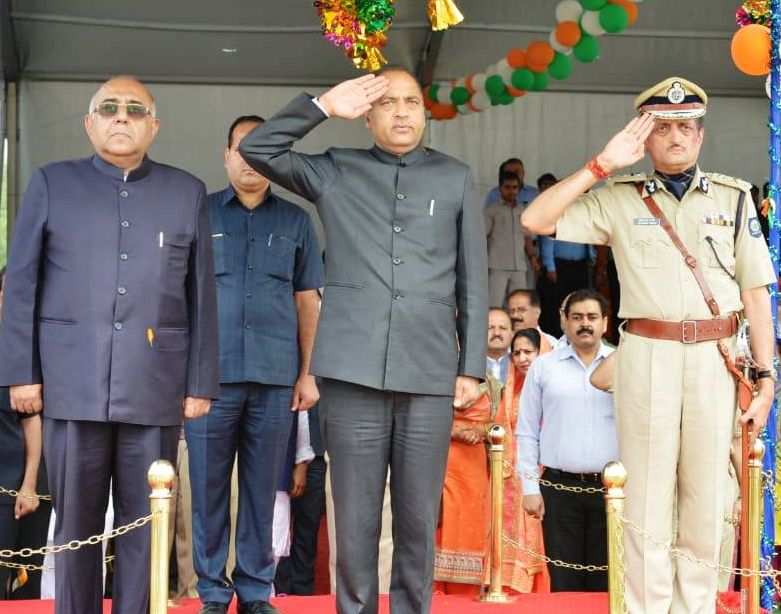 72th Independence Day was celebrated with enthusiasm and gaiety throughout Himachal Pradesh. Functions were organised at State, District and Sub-Division levels to mark the occasion. Unfurling National Flag, impressive march-past by contingents of Police, Home Guards, NCC, ITBP and cultural programmes were main attractions of the celebrations. People in large number in traditional attire had started to assemble the venue of functions early morning to witness the celebrations.
While presiding over the State Level Independence day function at Indora in Kangra district, Chief Minister Jai Ram Thakur hoisted the National Flag and took salute from the impressive march past by contingents of State Police, Jammu and Kashmir Police, Home-guards, NCC, Scouts and Guides and NSS cadets. The Parade was led by DSP R.K. Thakur.
The Chief Minister said the state government was working with a sole motto of "Sabka Saath Sabka Vikas" for ensuring overall and all-round development of the State. The government was committed towards safety and security of the women and 'Shakti Button App' and 'Gudiya Helpline-1515′ have been started for their safety. 'Hoshiyar Singh Helpline-1090' has also been started to strictly deal with the forest mafia, mining mafia and drug mafia, he added.
He said that 'Chief Minister Dashboard' has been started for online review and monitoring of the progress of various schemes and projects launched in the state. He said that 30 new schemes for the welfare of the people have been announced by the state government for welfare of every section of the society and adequate provision has been made in the budget for these schemes.
The Chief Minister said that upliftment of weaker sections of society has been the topmost priority of the government. In the very first meeting of the state Cabinet, the age limit for social security pension without any income limit was reduced from 80 to 70 years, thereby benefitting 1.30 lakh elderly persons. Today, about 4.47 lakh eligible persons of different categories are being provided social security pension for which a budget provision of Rs. 600 crore has been made for this financial year.
Jai Ram Thakur said the state government has succeeded in getting six major projects amounting to Rs. 6310 crore from the government of India. These projects for tourism development, horticulture development, strengthening drinking water facility, water conservation, rain-water harvesting and forest management would certainly prove a boon in doubling the income of farmers, providing employment to the youth and empowerment of women. He said that the state government and the people of the state were grateful to the Centre government for extending liberal financial assistance to the State. He said that this has been possible due to the benevolence of Prime Minister Narendra Modi.
The Chief Minister said that another new scheme 'Nai Raahein-Nai Manzilien' with an outlay of Rs. 50 crore has been started, under which tourists are being attracted to visit unexplored places having natural splendour. He said that the centre government has recently sanctioned an ambitious tourism development project of Rs. 1892 crore which will give boost to this sector. He said that Heli-taxi service has been started between Shimla and Chandigarh and the state government has provided the State helicopter to start Heli Taxi service between Shimla and Chandigarh for three days in a week. Efforts are being made to start such services for other important tourist destinations, he added.
The Chief Minister announced opening of PWD Division and construction of Mini Secretariat at Indora. He also announced setting up of Gau Sadans at Indora, Jawalamukhi and Jaisinghpur in Kangra district.
The Chief Minister announced upgradation of CHC Indora to 50 bedded hospital and setting up of X-ray machine and ultra sound machine in this institute. He also announced upgradation of Police Post Damtal to Police Station besides five tube wells for Indora.
Jai Ram Thakur also awarded Himachal Gaurav Puraskar on this occasion to Shail Bala (posthumously) and Gulab Singh (posthumously), Himahal Pradesh State Innovation Award to Dr. Pradeep Kumar, a Scientist of Chawdhary Sharwan Kumar Agriculture University Palampur for agriculture sector, Director Elementary Education in field of education, Director Himalayan Research Group Dr. Lal Singh, DGP (Prison) for Social Welfare and Employment.