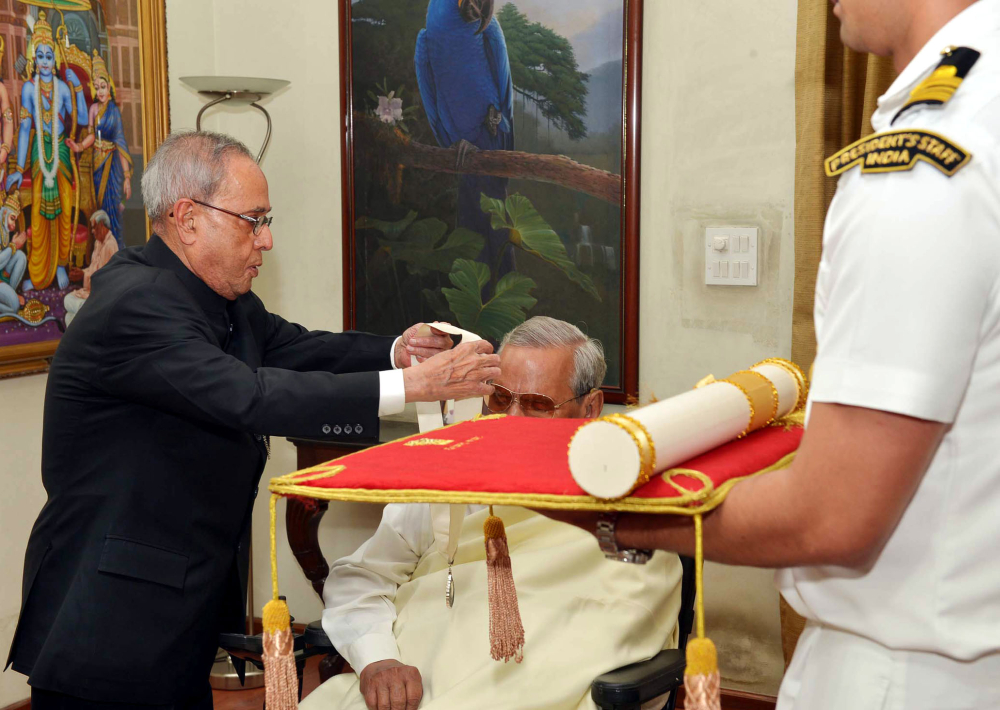 Former Prime Minister Atal Bihari Vajpayee has been conferred the Bharat Ratna, India's highest civilian honour, today.
President Pranab Mukherjee conferred the award at his residence in New Delhi.
Prime Minister Narendra Modi, BJP veteran politician LK Advani, Rashtriya Swayamsevak Sangh chief Mohan Bhagwat, senior cabinet ministers and former Prime Minister Manmohan Singh were present on the occasion.
Vajpayee, 90, was the country's first non-Congress Prime Minister who served a full five-year term – from 1998 to 2004. Among his boldest initiatives was the historic bus journey to Lahore in 1999 when he signed the landmark Lahore Declaration with Prime Minister Nawaz Sharif, with both sides pledging to push for peace and security.
India's second nuclear test at Pokhran, in May 1998, also took place during his tenure.
The announcement of his award came a day before on December 24 and earlier last year; his birthday – December 25 – was celebrated as the Good Governance Day.
The Bharat Ratna announced for noted educationist and freedom fighter and educationist Madan Mohan Malviya will be given posthumously to his family members on March 30 at the Rashtrapati Bhavan.