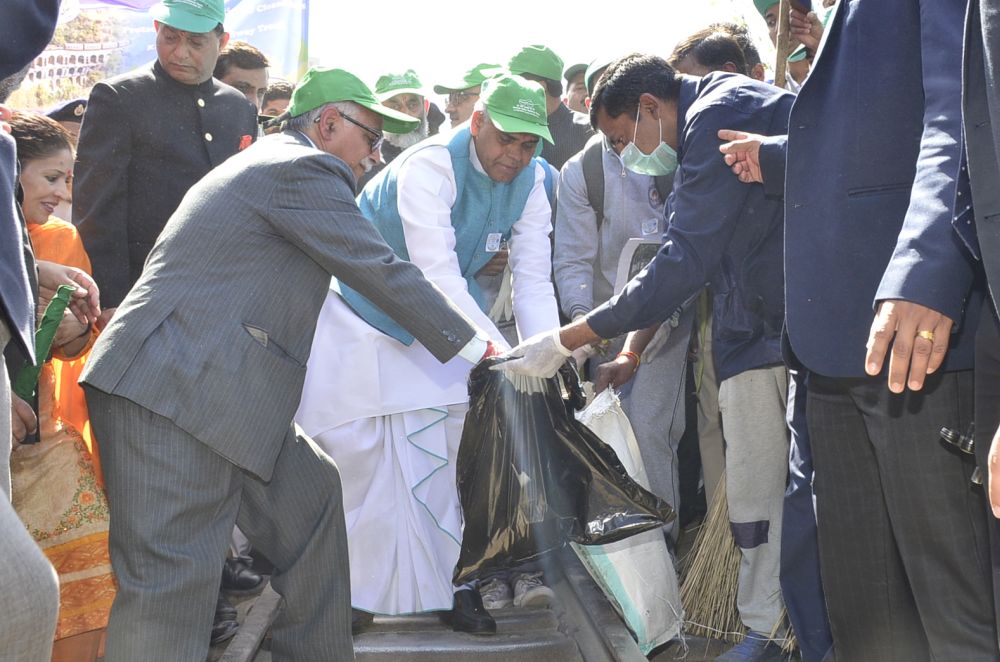 Shimla: Governor Acharya Devvrat inaugurated the cleanliness, protection and conservation drive organised under the aegis of H.P. State Legal Services Authority on the Kalka-Shimla railway track from Baba Bhalku Museum here today.
He was accompanied by Acting Chief Justice, High Court of Himachal Pradesh and Executive Chairman, H.P. State Legal Services Authority Justice Sanjay Karol, Judges of High Court of H.P., Advocate General, President & Members, Bar Associations, Officers of the Judiciary, officers of State and Central Government and Railways. Director General of Police S.R Mardi, Additional DM, Railways Kuldeep Singh, international players Suman Rawat, Ravinder Banshtu and Sanat Kalet also become part of the campaign.
Approximately 15,000 students, volunteers, members of civil society, organizations like the Indian Railways, the Territorial Army, Panchayats, various wings of the Himachal Government, civil defence, paralegals, lawyers, NGOs like INTACH and others took part in this drive.
The drive began simultaneously across 43 different segments that had been identified all along the 96 km. track from Shimla to Kalka. 3000 Trees were also planted during the campaign. The drive will be followed by constant maintenance and forestation that will be conducted by Himachal 'Eco-warriors', the Territorial Army. Impact assessments and a follow-up are also planned following this initial measure.
The Kalka Shimla railway track was opened on 9 November 1903 to traffic as a link from the Delhi-Ambala-Kalka branch of the East Indian Railway. Initially, there were 107 tunnels and in 1930, as some of them were defunct, they were renumbered to 103. Today, there are a 102 tunnels but for tradition's sake, the line was still referred to have a 103. There are eight hundred bridges and nine hundred curves and during its course, at times, the line goes through a succession of reverse curves of over thirty-six metres radii. All the tunnels were built between 1900 and 1903. The longest one is at Barog and was over a kilometer long.
The bridges along the track resemble Roman aqueducts and the longest arch viaduct has an aggregate length of 2.8 kilometres. The track was built by a private company under the supervision of H.S. Harington Chief Engineer and Agent of the Kalka Shimla Railway. The Railway was purchased by the State in 1906 and had cost Rs. 1,71,07,748 at the time of its construction. The story is told of Baba Bhalku, a labourer. He claimed that the trace that the line should take had been revealed to him by his devta, deity. He would march with a long staff over the hills and it is said that even the engineers were in awe of his 'supernatural' powers and always deferred to him. The Kalka Shimla Railway line is supposed to have been built on exactly the trace 'revealed' by Bhalku.
In 2008, in recognition of its heritage value and authenticity as a historic track, the Kalka Shimla railway track was inscribed by UNESCO as a 'World Heritage Site.'