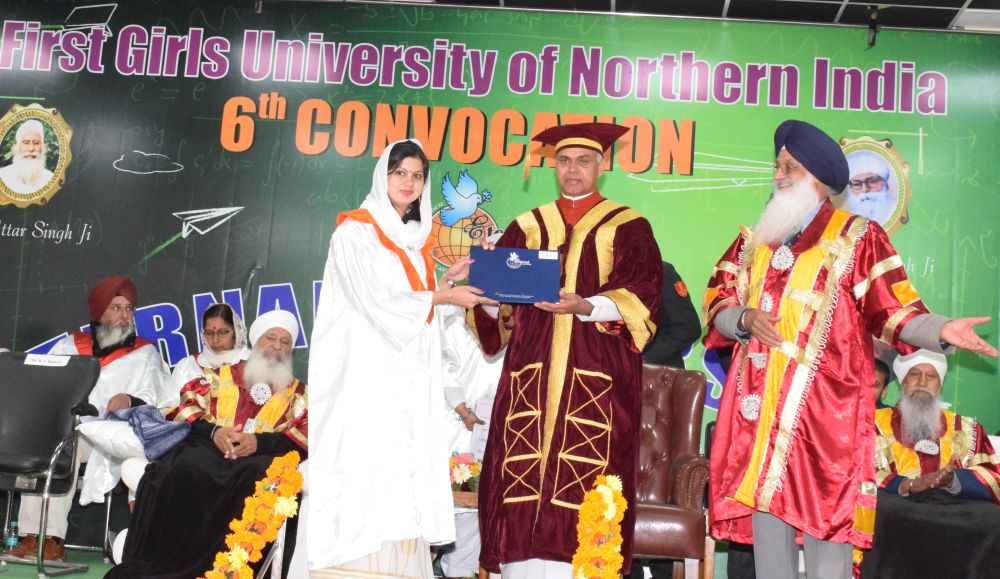 Baru Sahib: Eternal University Baru Sahib celebrated its 6th convocation ceremony. Governor Himachal Pradesh Acharya Devvrat was the Chief Guest of the convocation.
The Governor awarded degrees to 296 students, out of which four students were awarded Ph.D, 88 postgraduate and 202 graduate degrees. He also presented Gold Medals to Kavita Verma and Ankita Chauhan.
The Governor congratulated the medal recipients and wished for their prosperous and bright future. Devvrat said that education should not only be a means to earn livelihood, but the knowledge gained in the education institution should be excelled so that the benefits of their experiences could be utilized for the betterment of society.
The Governor said the convocation was a very important day for the Guru and the disciple and added that a person remains a disciple throughout his life and without practice, the knowledge disappears. He said that as per our scriptures knowledge was considered to be supreme.
Acharya Devvrat said the great saints and gurus of Sikhs have made their highest contribution in building the society and nation in the past. In a real sense, 'Beti Bachao-Beti Padhao' program was first started by Guru Govind Singh ji for empowering the girl child, he added and said that Guru Govind Singh ji started the movement in the name of 'Kudi Bachhao' from Kangra to save the girl child and at present this movement has been given the form of 'Beti Bachao-Beti Padhao Abhiyan'. He urged people to support and be a part of this campaign.
While appreciating the efforts of Kalgidhar Trust, the Governor said that the way Baba Iqbal Singh and Dr. Khem Singh have created a hub of education in Baru Sahib was an outstanding example.
Earlier, the Governor visited Nursing College, Famous Charitable Hospital and Bakery and congratulated Kalgidhar Trust for providing best possible arrangements. He also performed prayer at Gurudwara at Baru Sahib and he was also presented with a saropa by the officials of the Trust.
Earlier, the Chancellor of the Eternal University and President of the Kalgidhar Trust Baba Iqbal Singh welcomed the Governor and honoured him on the occasion.
Vice-Chancellor Dr. HS Dhaliwal read out the annual report of the University. He detailed out University's achievements and initiatives.