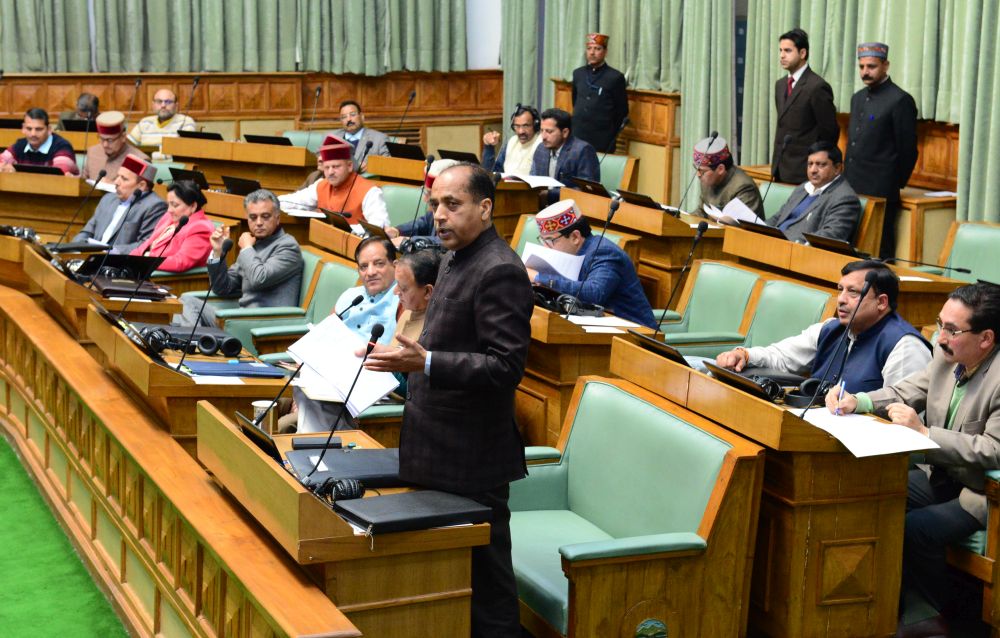 Shimla: Chief Minister Jai Ram Thakur presented the Economic Survey 2017-18 of Himachal Pradesh in the Vidhan Sabha today. The Survey has been prepared by Economic and Statistics Department, Himachal Pradesh. The growth rate of the state for the last three years is below the national growth rate.
As per the survey the Growth rate of the state for the current financial year, 2017-18 has been estimated at 6.3 percent. And Per Capita Income is estimated at Rs. 1,58,462.
The GSDP of State at current prices in 2016-17 increased to Rs. 1,24,236 crore from Rs. 1,13,355 crore in 2015-16 and as per advance estimates it is likely to be about Rs. 1,35,914 crore in 2017-18.
The total road length was 37,158 Kms. in the State as on 31.12.2017 and 10,241 villages were connected with roads.
Banking facility in the state is also improving and as on 30.09.2017 total 2,144 Bank branches are functioning in the State. The average population per branch in the State comes to 3,202 against National level of 11,000. The Credit Deposit Ratio of Pradesh is 44.60.
The total revenue of Rs. 4,613.15 crore have been moblised upto December, 2017. During December 2016 to December 2017 the All India Wholesale Price Index shows an inflation rate of 3.6 percent.
The Consumer Price Index for Himachal Pradesh increased by 5.3 percent in December 2017. The state has 18,38,036 ration card holders and 4,922 fair price shops are providing essential commodities.
The Economic Survey 2017-18 reveals that there are 152 Gas agencies, 386 Petrol pumps and 25 wholesale kerosene oil dealers working in the state. The Agriculture sector in the State generates about 10% to the total Gross State Domestic Product (GSDP). The banks have distributed 43 percent of Kisan credit cards to farmers.
During the year 2016-17, the anticipated foodgrain production is 17.45 lakh MT against the achieved production of 16.34 lakh MT during the year 2015-16, thus registered an increase of 6.8 percent. For 2017-18 the target is 16.45 lakh MT. Fruit production was 5.00 lakh tonne in 2017-18 (upto Dec., 2017) against 6.12 lakh tonne in 2016-17. Apple constitutes about 85% of total fruit production. During 2017-18 (upto Dec., 2017) 4.28 lakh tonne of apple were produced against 4.68 lakh tonne in 2016-17. Under Weather Based Crop Insurance Scheme (WBCIS) 36 blocks for Apple , 41 blocks for Mango, 15 blocks for Kinnow, 13 blocks for Plum and 5 blocks of peach have been covered.
Other highlights of the Economic Survey 2017-18
1. During the year 2016-17, One State Level Hospital, One Zonal Hospital, 397 Veterinary Hospitals, 1,772 Veterinary Dispensaries, 30 Central Veterinary Dispensaries 9 Polyclinics and 6 Veterinary check posts provide veterinary aid in the State.
2. 60 percent subsidy on good quality Rams are being provided to the sheep breeders.
3. Rs. 1.00 has been increased in milk procurement rates w.e.f. 1.04.2017 which will benefit 42,350 families.
4. About 6,098 fishermen in the Pradesh depend directly on fisheries for their livelihood.
5. 35,668 hand pumps have been installed upto March, 2017.
6. There are 622 medium and large scale industries and about 45,597 small scale industries presently working in the State.
7. The minimum wages for unskilled category of workers have been increased to Rs. 210 per day from Rs. 200.
8. There are 8,34,714 applicants registered in the State employment exchanges as on 31.12.2017.
9. Out of the total assessed hydel potential of 27,436 MW, only 10,519 MW has been harnessed upto Dec. 2017 by various agencies, which is 38.34% of the total potential.
10. HRTC has a fleet strength of 3,254 buses plying on 2,693 routes covering distance of 6.14 lakh Km per day.
11. There are 63 operational helipads in the State.
12. 196.02 lakh tourist visited Himachal Pradesh during the year 2017 which is 2.9 times of its population.
13. During the year 10,751 Primary Schools, 2,103 Middle Schools, 922 High Schools, 1,836 Senior Secondary Schools and 137 Degree Colleges were functioning in the State.
14. The State Government is providing free text books to the students belonging to S.C., S.T., O.B.C. & B.P.L. families.
15. Free education is being provided to girl students in the State upto University level including vocational and professional courses.
16. To improve the quality of education every possible steps has been made under Sarv Sishka Abhiyan.
17. To remove the gap in male female literacy, girls hostel have been set up in the Educationally Backward Blocks.
18. Net books/laptops were provided to 10,260 meritorious students of 10th and 12th class.
19. The intake capacity of students in Technical Education at Degree level is 4,070 B-Pharmacy 858 Diploma level 7,837 and ITI's/ITC's 47,784.
20. Medical and Family Welfare Services are provided through a net work of 85 Civil Hospitals, 91 Community Health Centres, 577 Primary Health Centres and 16 ESI and 2,085 Sub Centres etc. besides other Private Institutions.
21. Ayurvedic treatment is provided through 2 Regional Hospitals, 31 Hospitals and 1,175 Ayurvedic health centres, 3 Unani health centres and 14 Homeopathic health centres during 2017-18.
22. Under NRHM 95 health institutions are identified to provide 24 hours emergency services.
23. Under Social Security Schemes, the old age pension is given Rs. 700 per month to all the persons of 60 years or above but below 80 years, having individual annual income below `35,000 and the persons above 80 years pension is given Rs. 1,250 per month without any income criteria.
24. Under Mukhya Mantri Kanyadaan Yojna the marriage grant of Rs. 40,000 has been given to the guardians of the destitute girls and 691 beneficiaries were covered.
25. Under Beti Hai Anmol Scheme 16,908 girls have been benefited.
26. Under National Rural Livelihood Mission assistance to 3,280 women SHGs will be provided.
27. Under Lal Bhadur Shastri Kamgar Avam Shahari Ajivika Yojna an amount of `1.50 crore has been provided.
28. The Swachh Bharat Mission is being implemented in all the 12 districts of the State in project mode and Himachal is considered as a leading State in the field of Sanitation.
29. Under Mahatama Gandhi National Rural Employment Guarantee Scheme total 156.54 lakh mandays have been generated and employment has been provided to 4,32,005 households.
30. Under National Urban Livelihood Mission 260 self help groups have been formed and 160 beneficiaries were provided skill training.
31. Under Rajiv Awas Yojna 846 Dwelling units will be constructed in the State.
32. On the basis of 2017 projected population, Aadhar card number of 75.73 lakh residents have been generated.
33. For better and timely work, the State has implemented Service Guarantee Act. 183 services in 25 departments has been covered.
34. Public Service Delivery helpline has been set up for the people of the State.
35. Additional interim relief of 8 percent has been provided to government employees and pensioners w.e.f. 01.01.2016.
36. Under Smart City Mission, Municipal Corporation Shimla has also been approved by Government of India.
37. All persons above the age of 70 years and above will be provided old age pension.