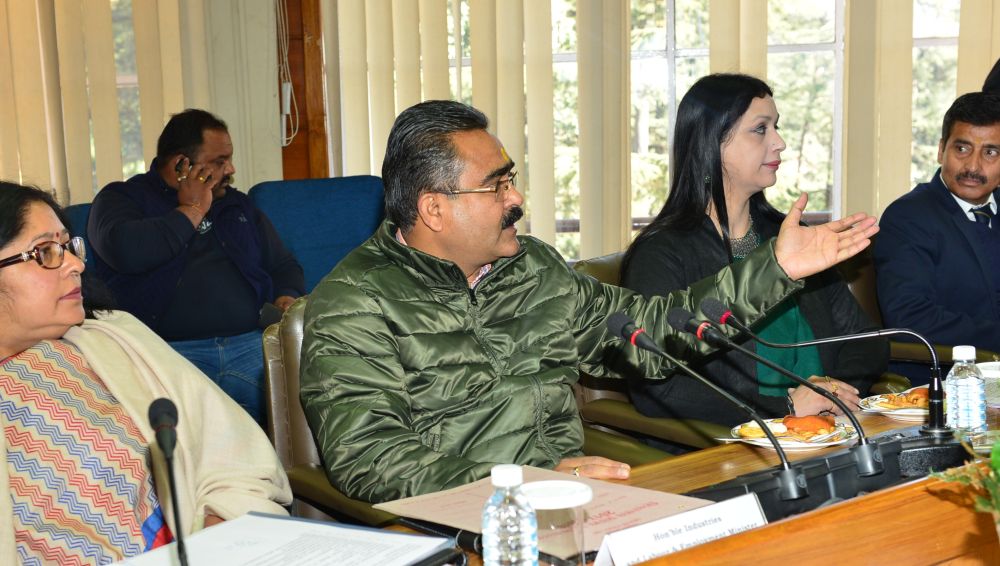 Shimla: To ensure timely salaries in the private sector, the Himachal Pradesh government is developing mechanism to make Aadhar linked payments of salaries and other dues to the workers in private establishments.
Industries and Labour & Employment Minister Bikram Singh, in a meeting of the State Labour & Employment Department today, said that it has been noticed that many a times complaints were received that the labourers working in registered private units were being paid less and are made to sign on higher amount. He said that the Aadhar linked mechanism would go a long way in checking this practice.
The Minister directed the officers of the Department to ensure strict and effective enforcement of all the labour laws. He said the State was known for industrial peace and the same should be maintained at any cost. He said that at least 70 per cent employment in all the upcoming industrial, tourism, hydro-electric units must also be ensured to the Himachali youths.
Bikram Singh said that Departments like Labour and Employment, Technical Education and Skill Development Corporation must work with greater coordination in order to achieve desired results. He said that better co-ordination amongst these Departments would ensure greater employment avenues to the youth of the State.
The Industries and Labour & Employment Minister said that all the employment exchanges in the State must be updated regularly. He said that the employment exchanges must have authentic data of the unemployed youth and semi-employed. Similarly, names of candidates securing government job must accordingly be deleted, he added. He said that this would help in giving a clear picture of actual number of unemployed and semi-employed youths in the State.
Labour and Employment Minister said that the Building and Other Construction Workers Welfare Board must ensure that maximum numbers of workers working in this sector get registered with the Board, so that they could derive benefit of various schemes being implemented by the Board for their welfare. He said that most of the workers were not aware of the welfare schemes being implemented by the Board, therefore greater thrust must be laid on wider publicity of welfare schemes, particularly in rural areas.
Bikram Singh said that all the forms and procedures in the Department regarding benefits to workers must be simplified and made more realistic. He said that this would not only ensure smooth functioning of the Department but also enhance its efficiency. He said that all the functional posts laying vacant in the Department would be fill up on priority.
Additional Chief Secretary Labour and Employment Nisha Singh said the Department would work with commitment and dedication to achieve the desired results.
Labour Commissioner Himashu Shekhar Mishra, Jyoti Rana Chief Executive Officer Himachal Pradesh Building and Other Construction Workers Welfare Board, Rajesh Sharma Managing Director H.P Skill Development Corporation and other senior officers were present at the meeting.