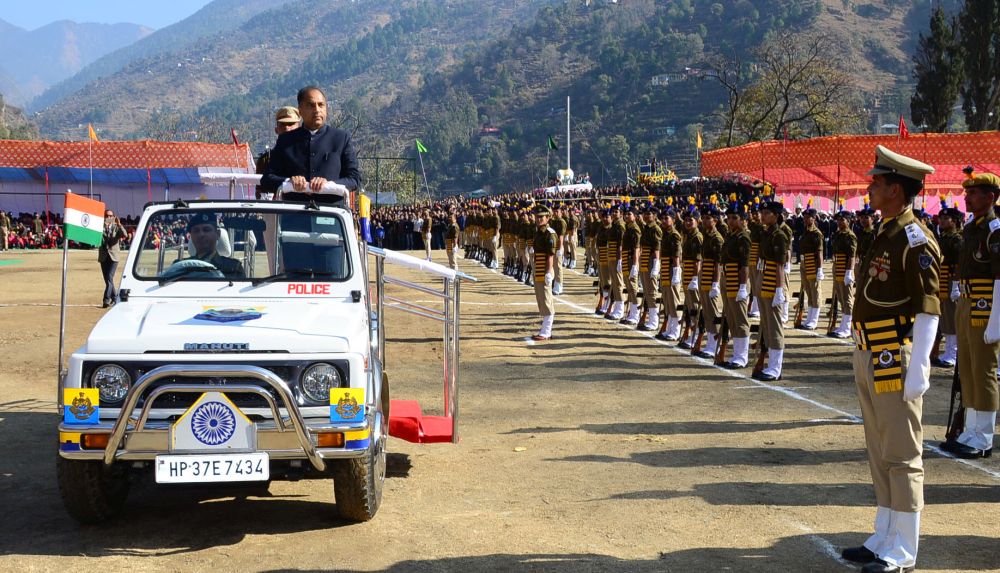 Anni/Kullu: While presiding over 48th Statehood day celebration function at Anni in Kullu district, today, Chief Minister Jai Ram Thakur announced eight percent Interim Relief (IR) to the employees of the State Government and the pensioners from 1st January, 2016.
The Chief Minister also announced upgradation of 50 bedded Civil Hospital Anni to 100 bed along with creation of staff. Announced Sarahan-Bathad via Bashleo Pass as a major district road and said that possibility for its immediate construction would be explored. The 40 kilometres stretch, on completion would connect 26 Gram Panchayats of Nirmand Block to district headquarter Kullu.
He also announced for construction of additional six rooms in HPPWD Rest house at Anni. The Chief Minister also announced conversion of temporary Police Chowki at Nither into permanent one.
He said that the BJP Government was committed to attain the objectives of all round development coupled with self-sustenance and socio- economic justice.
DPR would be submitted to GOI for tunnel under Jalori Pass
The Chief Minister said that a tunnel would be constructed under Jalori Pass for which the detailed project report of Rs.1410 crore would be submitted to Ministry of Road, Transport and Highways, GoI within six months.
A Tunnel will ensure connectivity in the region in winter as well and would help in developing tourism in the region as well.
He express his gratitude to Prime Minister Shri Narendra Modi for starting UDAN, a regional air connectivity scheme of Ministry of Civil Aviation, Government of India, connecting 25 unreserved airports and 31 unreserved helipads.
The Chief Minister said that providing air connectivity to the far flung areas of the hill state was discussed with the Prime Minister during his visit to Delhi after he assumed the office of Chief Minister and he was grateful to Narendra Modi for including Himachal Pradesh under UDAN Scheme. This would certainly add to tourism sector, besides saving journey time by road. "I was too concerned for improving both road and air connectivity and with initiative taken by Centre Government, a small state like Himachal would be catering to the needs of tourists in a better way, he said.
Under the scheme the helicopter services would be provided at cheaper rates to the people from various destinations. The services would be provided from Kasauli to Shimla, Manali to Kullu, Mandi to Dharamshala, Kullu and Shimla, Nathpa Jhakri, to Rampur, Rampur to Nathpa-Jhakri and Shimla and Shimla to Kasauli, Mandi and Rampur. It was due to the request to the Prime Minister for providing air connectivity in Himachal Pradesh, which would promote tourism in a big way.
One has to pay a sum of Rs. 2500 per seat for one hour of flight by an aero plane or a journey covered in 30 minutes by helicopter. As of now 19 states has been brought under the scheme.
The Chief Minister said that roads are an essential infrastructure for rural economy and was life-lines of development, particularly in a hill State like ours. The State Government has kept roads as its priority and special emphasis would be given on providing rural connectivity. The State Government would initiate Road Maintenance Policy to bring qualitative improvement in roads. The Government of India has sanctioned in principle 69 National Highways for the State for which I express my gratitude to the Centre Government. This would strengthen the road network in the State, he said.