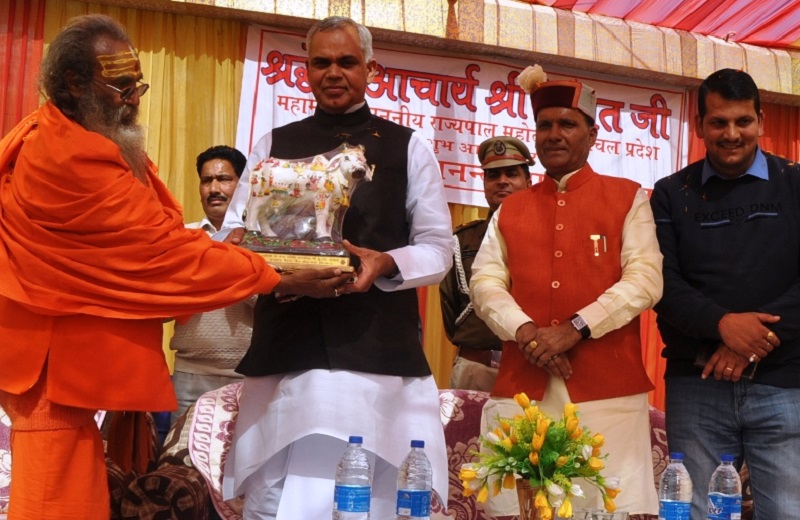 Mandi: Governor Acharya Devvrat gave advised to rear Indian breed of cow for healthy life and to improve the fertility of soil and farm activities.
The Governor, while inaugurating Surbhi Gaudham at Nehra village of Chail Chowk in Mandi district, today, said, "if we are religious than it should reflect in our activities." He said that unfortunately, cow which we called 'Gau Mata' were moving unclaimed on roads.
He appealed the farmers to protect them and involve them in farm activities as they were helpful in every respect.
Acharya Devvrat claimed that in Switzerland and Australia many experiments were conducted on Jersey and Holstien Freign besides Indian breed. But, the scientist reached at the conclusion that milk of Indian breed cow was most hygienic and fit for the health and increase the immunity and it was proved by foreign scientists.
He said that excessive use of urea, DAP and pesticides had reduced the fertility of the soil and added that to save the agriculture for future generation rearing of Indian breed of cow was must. He said that in Sharad University it was proved that more than 300 crore useful bacteria were found in one gram of cow dung and Gaumutra was also used as Amrit and was used in many Ayurvedic medicines.
He appreciated the efforts of the Samiti particularly Shri Abhishek Guruji to work in protecting cow and involving in such activities. He expressed happiness in participating in such pious activities and hoped that such programmes would be organized throughout the State in a big way to protect Indian breed of cow.
The Governor announced rupees two lakh to Swadeshi Surbhi Gaudham for promoting Indian breed cow rearing activities in the area. He also honoured the people involved in cow rearing activities and promoting cattle rearing activities in the area.