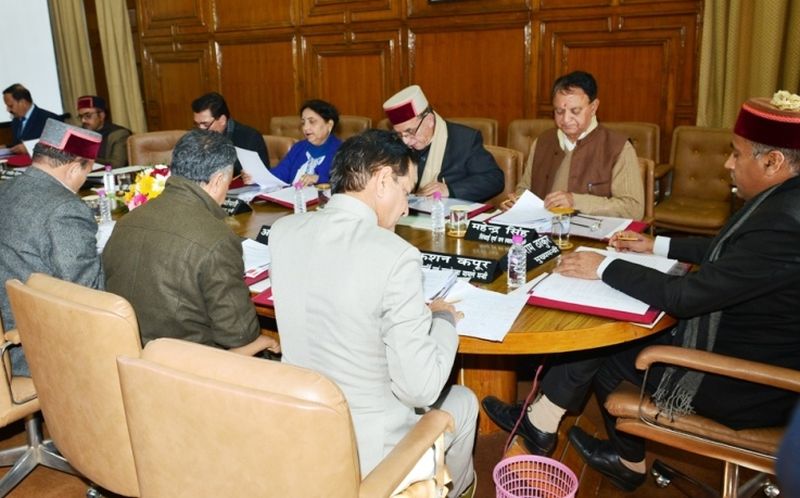 Shimla: The Himachal Pradesh Cabinet reviewed the decision taken in the Cabinet meeting held on 5th August, 2017 regarding deletion of Rule-5 (1) of the Demobilized Armed Forces Personnel (Reservation of Vacancies in Himachal State Non-Technical Services) Rules, 1972 and Rule -5 (1) of the Ex-Servicemen (Reservation of Vacancies in Himachal Pradesh Technical Services) Rules 1985 and decided to restore the benefits to the extent of fixation of pay in civil employment to the ex-servicemen.
This decision will entitle them for monetary benefits.
The Cabinet, presided by Chief Minister Jai Ram Thakur, decided to execute balance work of widening and strengthening of Theog-Kotkhai-Kharapathar road on which Rs. 29.310 crore is likely to be spent besides widening works of Kharapathar-Rohru road.
The Cabinet gave its nod to fell few trees and saplings in private land transferred/ acquired by the National Highways Authority of India for construction of four laning of NH-22 from Kandaghat to Kaithlighat in relaxation of ban imposed by the State Government on felling of trees.
Secretary Finance also gave a detailed presentation on state financial resources in the cabinet. Secretary Finance presentation revealed that liabilities left over due to reckless opening of government institutions during previous government were also discussed in the cabinet.
Cabinet nod to continue the service of retired Patwaris and Kanungos
The Cabinet also accorded its approval to continue the service of retired Patwaris, Kanungos engaged on contract basis, till the new batch of Patwaris undergoing training is recruited, so as to avoid inconvenience to the general public.
In its first meeting, the Jai Ram Government has ceased extensions and re-employment given by the previous state government with immediate effect and eventually all retired Patwaris, Kanungos engaged on contract basis were forced to discontinue the services.
The Cabinet also accorded approval for settlement of arrears in BBMB projects in compliance with the Supreme Court orders dated 27th Sep, 2011, in terms of differential energy return. The differential energy quantum of 13066 million units shall fetch an amount of Rs. 3266 crore to the state at an average rate of Rs. 2.50 per unit.
The Cabinet approved for negotiation with Punjab and Haryana for return of the entire differential energy within a period of 10 to 12 years.
The Cabinet also agreed for negotiation towards payment of liability of Rs. 111.53 crore as computed by Union of India in its affidavit in equal annual installments during the period of return of power and in case States of Punjab and Haryana insist for repayment with interest, Himachal Pradesh will go in for return of power with premium of 6 percent and with no further additional liability for receiving this differential energy of 13066 million units.
The Cabinet agreed and approved the proposal of Punjab and Haryana to return of differential power during 1st October to 31st March owing to their constraints of paddy harvest season and also the requirement of Himachal Pradesh during winter months in the public interest.
The Cabinet accorded its approval to extend government guarantee for loan taken from HUDCO for housing project at Jathia Devi near Shimla Airport up to 28 February, 2021.
Cabinet exclude Raghunathji Temple from Schedule-I of Hindu Public Religious Institution and Charitable Endowment Act, 1984
The Cabinet gave its approval to exclude Raghunathji Temple Kullu from Schedule-I of Hindu Public Religious Institution and Charitable Endowment Act, 1984.
Earlier previous government had decided to acquire Lord Raghunath Temple of Kullu – owned by the erstwhile royal family. Perturbed over the government decision, Maheshwar Singh, a BJP leader and scion of the erstwhile Kullu royal family, approached Supreme Court and succeeded in getting the stay.
Termed the takeover of the temple as illegal, arbitrary and against the provisions of the Constitution, Maheshwar Singh had maintained that the shrine was a private property and the royal family of erstwhile Kullu state had been traditionally taking care of the historic temple.