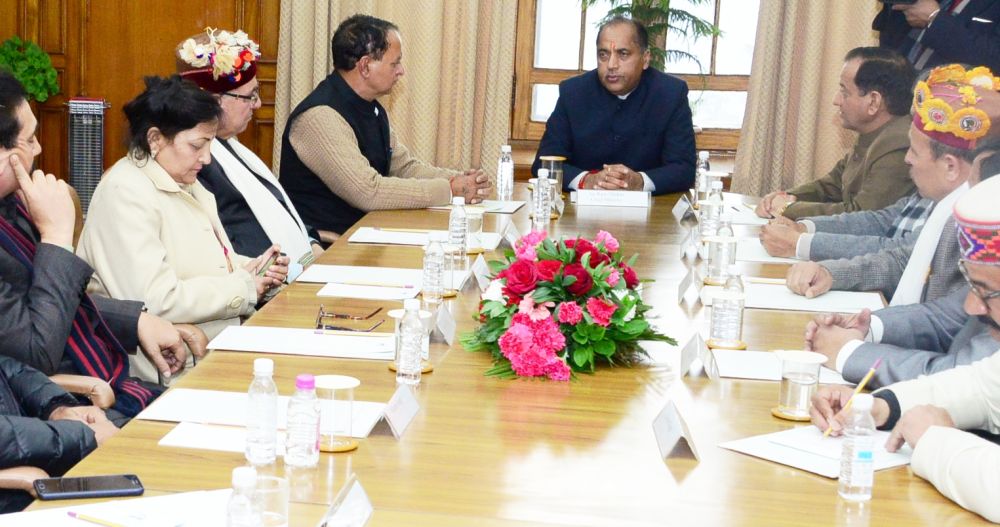 Shimla: Chief Minister Jairam Thakur, in his first cabinet meeting, ceased extensions and re-employment given by the previous state government with immediate effect. It decided to remove all nominated chairmen and vice-chairmen besides members in various boards and corporations.
The Cabinet also put on hold the entire recruitment process being carried outside the purview of HP Public Service Commission and Staff Selection Commission.
As announced earlier, Jairam Thakur led cabinet also decided to review the decisions of last six months of the previous government. The Cabinet decided that transfer orders not implemented so far will be held in abeyance.
The Cabinet decided to hold the winter session of Vidhan Sabha from 9-12 January, 2018 at Dharamshala. It'll be Jairam Thakur's first Assembly session.
The Cabinet decided to adopt the Swarnima Himachal Drishti Patra (Vision Document) of BJP as policy document of the state government.
The Cabinet decided to continue the interviews schedule of medical colleges. It was decided to constitute a Cabinet sub-committee to look in to the problems being created by abandoned animals.
Jairam Thakur Cabinet in other major decision gave approval for lowering the age for providing social security pension from 80 to 70 years, the decision is likely to benefit major section of the aged and is seen as the first gift of New Year to the old aged of the State. The pension would be given without taking into consideration income criteria.
The Cabinet thanked the people of the state and especially the Prime Minister for bestowing faith and making available a strong leadership in the newly formed government.
The Cabinet unanimously thanked the people of Himachal Pradesh for reposing their faith and confidence in the Bharatiya Janta Party and its policies and programmes and expressed deep gratitude to Prime Minister Narendra Modi and National President BJP Amit Shah for their dynamic leadership that resulted in spectacular victory of the Party in the recent assembly elections in Himachal Pradesh. This Government will leave no stone unturned to live upto the expectations and aspirations of the people of the State.
Earlier today, Jairam Thakur sworn in as 13th Chief Minister of Himachal Pradesh amidst loud applauds from massive gathering at the historic Ridge Shimla.
Governor Acharya Devvrat administered oath of office to Jairam Thakur. Prime Minister Narendra Modi, National BJP President Amit Shah, former Deputy Prime Minister L.K. Advani, Union Home Minister Rajnath Singh, Union Road Transport Minister Nitin Gadkari, Union Health Minister J.P. Nadda besides Chief Ministers and Deputy Chief Ministers of various States of the country.
Apart from the Chief Minister himself, 11 other Ministers were also administered oath which includes Mahender Singh Thakur from Dharampur Assembly constituency, Kishan Kapoor from Dharamshala Assembly constituency, Suresh Bhardwaj from Shimla Urban Assembly constituency, Anil Sharma from Mandi Sadar Assembly constituency, Sarveen Chaudhary the only lady Minister from Shahpur Assembly constituency, Ram Lal Markanda from Lahaul-Spiti Assembly constituency, Vipin Singh Parmar from Sulah Assembly constituency, Virender Kanwar from Kutlehar Assembly constituency, Bikram Singh from Jaswan Pragpur Assembly constituency, Govind Singh Thakur from Manali Assembly constituency and Dr. Rajiv Saizal from Kasauli Assembly constituency.
In Jai Ram Thakur's Cabinet, there are six fresh new faces inducted as Ministers. Besides, there are four Ministers from Kangra district, two from Mandi.
Suresh Bhardwaj and Govind Singh Thakur took oath in Sanskrit.