Keylong/Udaipur: In a bid to exploit the vast hydro power potential available in the Chenab basin, Himachal Pradesh has sanctioned power projects worth 2292-MW in Lahaul-Spiti district. Around 37 hydropower projects have already been allotted in the district.
Lahaul-Spiti, Pangi and Kinnaur valley of Himalayan region are very fragile and big hydro projects would cause damage to its ecology, landslides had already become a regular feature and explosion done for these projects would cause more slides that would damage villages and agricultural lands in the areas. Local people have also expressed concerns over the violation of tribal rights and environment norms for the execution of these projects.
The residents of Lahaul-Spiti including Udaipur and Tindi panchayats in Lahaul-Spiti district refused to give NoC to the 400-MW Selli hydro power project claiming that it would spell disaster for the area.
This is not the first time that the residents have refused to give NoC to a project. Earlier, in Todh valley panchayats of Darcha, Jispa, Meh, Gemur villages had passed resolutions against the proposed projects in their areas and refused to give NoCs to the same in the gram sabha meetings. Even the residents of Tinnan valley and Pattan Valley passed a similar resolution against the Hydro projects.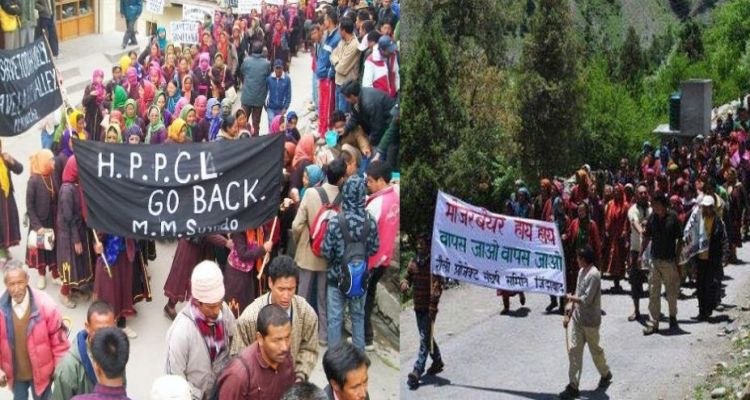 The devastating floods of June 2013 (Kedarnath and Kinnaur) highlighted the need for sound planning and construction in the high-altitude terrain of the Himalayas. That lesson and concerns of geologists, however, are being ignored by state governments and Private Power Companies.
A senior glaciologist behind the report, at the institute's Chorabari monitoring camp said, "We made many suggestions in our report, in accordance with higher Himalayan geology, which should have been kept in mind," he said.
Projects, buildings should not be constructed over glacier debris. In Kedarnath, nature gave us an opportunity by slapping us with this devastation. We should have taken lessons from traditional knowledge. But it looks like we have missed this opportunity.
Each year, Beas, Satluj causes huge damage to roads. Floods have resulted in loss a large number of human lives, in the past.
Major flood disasters
July 1973: Blockage of Satluj River due to rock fall at Nathpa had formed a lake. Later, a breach in it damaged Sanjay Power House, resulting in loss of around Rs 4.5 crore.
January 1975: An earthquake caused blockage in Satluj basin at two places in Spiti valley, resulting in formation of a 60m-high 150m-long lake. Two months later, a breach in the lake caused flashfloods in Spiti valley.
September 1988: A cloudburst caused flashfloods in Soldang Khad in Kinnaur, causing massive damage to human life and property downstream, including 2 km national highway along Soldang Khad, in which 32 people were killed and 15 houses damaged.
July and August 2, 1991: A 1,500m road stretch of national highway-22 in Spiti valley was damaged due to flashfloods and landslides in Maling nalla. It caused damage to agricultural land in Leo village of Kinnaur, located downstream.
September 1995: Flashfloods in Beas River in Kullu district caused damage to public and private property. Besides killing 65 people, it caused losses of around Rs 76 crore.
August 1997: Around 124 people were killed after flashfloods hit Andhra Khad of Pabbar valley of Shimla district, which also damaged a power house.
August 2000: Flashfloods in Kinnaur district. With unprecedented rise in Satluj river right from Khab to downstream areas, massive damage was witnessed. Around 200 km of NH-22 suffered extensive damage while 22 bridges were washed away. Loss was calculated at around Rs 1,450 crore.
July 2001: Cloudburst in Sain area of Kullu district resulted in flashfloods affecting over 6,500 people in the area.
June 2005: A breach in Parchoo Lake in China resulted in rise of water levels in Satluj river, causing huge damage downstream. Around three dozen big and small bridges were washed away and loss to property was calculated at around Rs 600 crore.
July 2005: Flashfloods in Pabbar and Baspa rivers resulted in huge losses, calculated at around Rs 560 crore.
June 2013: Flashfloods in Kinnaur district and other parts of Himachal caused losses of around Rs 2,500 crore to private and public property, besides loss of human life.
July 2017: Flashfloods in Karpat Village Lahaul Spiti district and other parts of Miyar Valley caused losses of around Rs 2 crore to private and public property.
August 2017: Mandi tragedy, one of the most tragic incidents could have killed over 50 people. As per the district administration, the rescue teams had recovered 46 bodies. The public is reacting against access tempering with fragile ecology of the region. People are criticizing access excavation of mountains for the widening of the roads. Unscientific cutting of hills on the name of development is literally paving way for the graves of people.
***Article is contributed by one of concerned resident of Lahaul-Spiti.