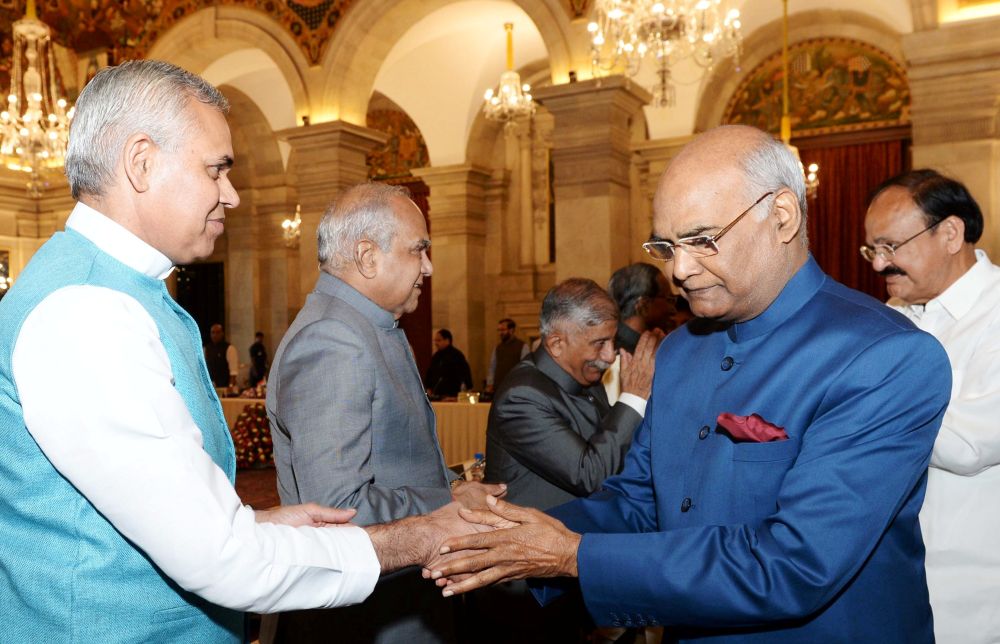 New Delhi: Governor Acharya Devvrat has stressed on public participation for dealing with social challenges and moving forward towards social welfare as constructive changes in society were only possible through awareness campaigns.
He was participating in two–day 48th Conference of Governors organised at Rashtrapati Bhawan in New Delhi, today.
Acharya Devvrat said that during last two years as Governor of Himachal Pradesh, he worked on six major issues including cleanliness, water and environment conservation, 'Beti Bachao, Beti Padhao' campaign, drug de-addiction, zero budget natural farming, indigenous cow breeding and social harmony programmes and by involving every section of the society with these programmes.
To promote tourism in Himachal, cleanliness campaign had been speeded up besides undertaking plantation drive by involving students and NGOs. A strategy had been prepared for the formation of check-dams at a comprehensive level to revive the water resources by running 'Water Conservation Literacy Campaign', said the Governor.
He said that 'Beti Bachao, Beti Padhao' campaign had resulted in increase in the girl child sex ratio and it was a matter of pride that the girls of Himachal Pradesh had been excelling in every field. Various initiatives had been undertaken to safeguard the students from drugs and intoxicants de-addiction center was being set up in Shimla for which land has been identified.
Acharya Devvrat said to double the income of the farmers and make them self-reliant, the concept of zero budgets natural farming had been promoted among the farmers of the State. Organic agriculture departments had been established in the agricultural and horticultural universities besides organizing training camps. He added natural farming was being promoted in the state in a big way to strengthen the economy of farmers, which was beneficial for soil as well.
He urged to expedite the work of strategically important first major rail project Bhanupalli-Bilaspur-Beri broad gauge railway route upto to Leh, acceptance of major projects related to rail and road and to restore the grant given to the freight rate to nearest railway station.
In his closing remarks, President of India Ram Nath Kovind, expressed satisfaction at the exchange of ideas on issues of national importance.
The President said that Governors can give direction to the younger generation and can play an important role in shaping the future of the country by constantly engaging with students and teachers. They can inspire Universities in their States to develop as innovation centres. The role of the Governors becomes even more important in ensuring education and development in tribal areas
The President said that States and Governors should share information about their successful programmes with their counterparts. Deliberations on both achievements and problems between States, will give a new dimension to co-operative federalism.
Speaking on the occasion, the Vice President said that Governors should act as catalysts and facilitators in the change process. The ultimate aim is to serve common citizens and ensure that the benefits of development reach the people.
While addressing the Conference, Prime Minister Narendra Modi, said that there is dearth of ideas, resources, and capabilities in our country. He said that Governors can facilitate better effectiveness of Government initiatives. He also stressed on making conscious efforts towards national integration. In this regard, the Prime Minister urged Governors to involve themselves in initiatives such as 'Ek Bharat, Shreshtha Bharat'; and 'Run for Unity'.
Union Minister of Home Affairs Rajnath Singh, said that the Governors can act as a bridge between the Centre and States. The Governors can contribute towards strengthening confidence building measures so that people's faith in the democratic system is maintained.